It's upon us, Wubbers: Burton and Miller are both IN THE HOUSE! One, struggling with a face mask that's fit for a serial killer, the the other in a bed with electrodes on his forehead. Will we last? Will we make it though? Can we survive the boring, mind-numbing build up? Hey, if Kelly Monaco can ugly cry for days, I guess I can sit and watch.
First of all, it's gorgeous out here--I mean, like totally gorgeous. It has been for a week and will be 90 degrees MONDAY!! That means I'm totally not into doing the blog. I did do a MIDWEEK SURGERY so hit that link for some ranting info.
I'm going to give you the short version of the things that "happened" other than the sitting and waiting and waiting and sitting for St. Jaysus #1 to do anything but clench his fist-- or Jaysus #2 to wake up.
In no particular order:

**Nelle was going to move because her apartment was going condo. BUT! Michael saved the day by buying it for her. By her reaction she's none too happy. She probably wanted to move into the Q's!
**Jessica Tuck is on as Cassandra. Anna dragged Finn to "Monaco" to ...um... I guess it has something to do with that diamond and Valentin. Getting someone as fab as Jessica to be isolated in "Monaco" With 2 other characters--well, that sounds like Marion from AMC. She got the Man Landers Show. Let's hope this turns out better.
**Speaking of waste of talent, Dr. David Bensch (Max Holden to the rest of us) -- is walking around doing nothing but grumbling at Kiki.
**Sam put Billy Miller in a rehab facility. He grew a beard. They had a great scene with Danny and Jake but chopped it up into little pieces. Infuriating.
**Krissy and Parker "made up" then promptly didn't because Parker thought it would hurt her career so yada yada. Whatever.
**At the Shriner's Hospital FOR CHILDREN, Valentin and Lulu make an agreement about joint custody for Charlotte. Who knows if it will last. I'm not betting on it.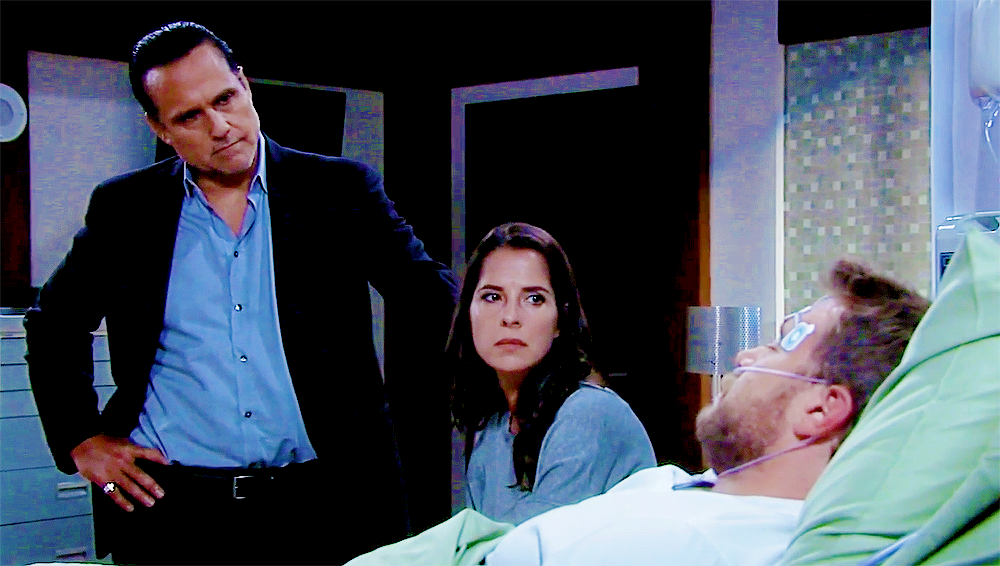 Gee Sam, you're right...something's not right here
Sonny, I swear I just get this feeling...he wasn't himself since...well.
He came back? Yeah I know.. he doesn't even like Giraffes anymore.
You're RIGHT Sonny...he never mentions GIRAFFES!!
ON TO THE JASON WATCH! (Which is kind of like a Whale Watch--without the boat or the sea-sickness).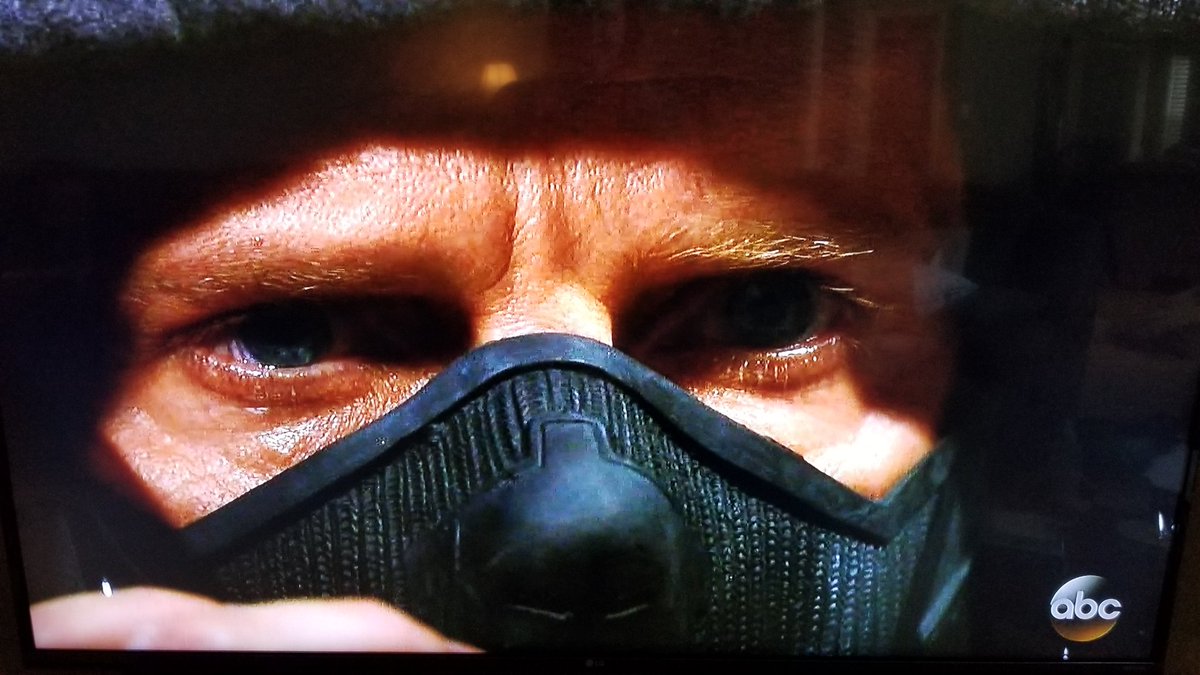 So, Jason took off his sunglasses Tuesday so we knew it was indeed, Steve Burton in there. He kept that mask on I guess, because it's CHAINED TO HIS HEAD? It's supposed to be for 'Protection"?? Or ...does he just like it? How does he eat? Why is his nose all covered up??
Anyway, some new American doctor comes in and tells Ava that Burton is SO TRAUMATIZED AND DANGEROUS (sounds like a song) that he has to be injected with (and I kid you not) horse tranquilizers (known on the mean streets as "Special K") BUT!! Wait!! St. Jaysus is SO strong and SO manly, he can still clench and release his fist !! He can almost stand up!! He can write a phone number down to Ava!!
Believe me, if you somehow missed 'his return' this week you really didn't miss anything. Next week that number turns out to be (spoiler) the love of his life's --and I'm not talking about Sam. (or Liz, or Robin--or even his mother). You know who's going to get the call, right? THE STAR OF THE SHOW --"He Who Must Be in Every Story". :eyeroll: -- But it's the doctor that calls, not Ava and not JASON
We also learned from Franco's Mama that Franco and Jason are "not related" (but actually, they are--they are cousins). Ergo, Miller and Burton are the twins. Here is MY speculation as to how the story will unfold: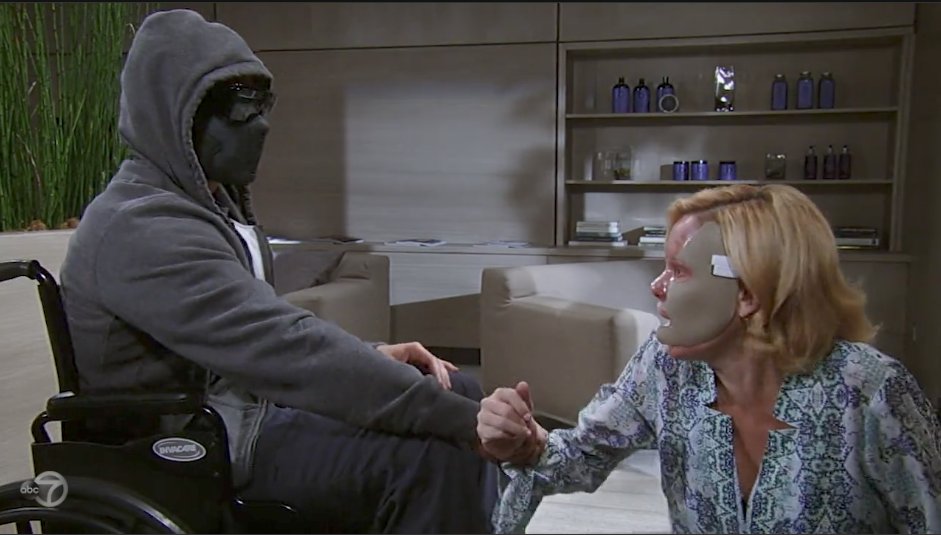 Helena found out about the twin. I don't know how he came to live with Franco but it probably involves Heather (of course). Alan never knew about the twin but he is identical to Jason that was left in Port Charles.
So, Helena finds out and captures Billy Miller at some point in his life (not sure when) and starts training him to be her "soldier boy" on the Island. She even implants him with memories. Helena's plan is to switch him out for Steve Burton so she'll have an identical Jason in PC (with the DNA to prove it) and he can carry out her evil deeds. She'll take the OTHER Jason (Burton) and kill him. She had taken Billy Miller (still with "Jason's face") to the clinic where Robin was Creighton Clark? To finish the training and to get Robin to think it was him. Her plans are thwarted however, when Ava runs him over. Not only did he have another face, he lost his implanted memories. When he starts to remember the implanted memories, those scarecrow things come back too (remember that hooey on the island with Franco??) and that's where Jake saw him (looking like Burton).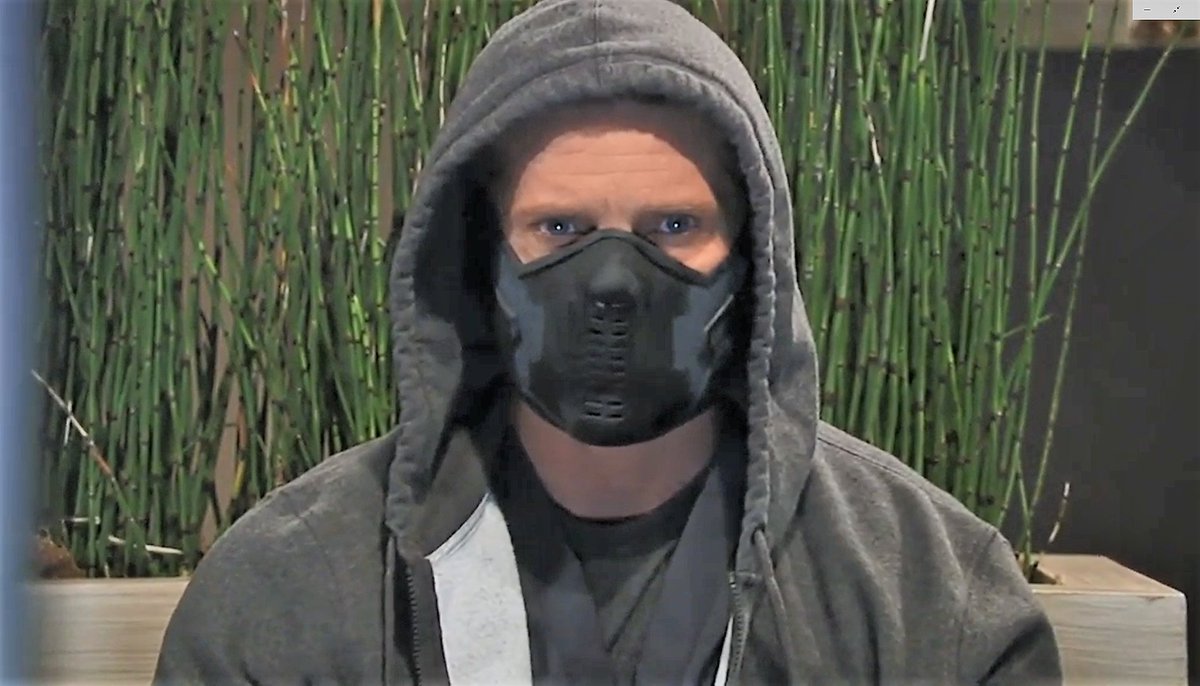 PHEW!! Take a drink people!! Now this would work with what we were shown. There is a hitch-- Patrick saw the same injuries that Jason had in his brain before he operated. I think that will just be swept under the rug like a ton of other things on this show.
This makes Steve Burton "THE" original Jason and Miller the identical twin. This scenario will also force Sam to be torn for the Jason she's a soul mate with and this one that she's been loving and with whom she had a baby. (See Blair OLTL)
BUT! Don't shoot me if you're a Killy fan because this is just what I've figured out by using the clues. Who knows what the "REAL" story will be.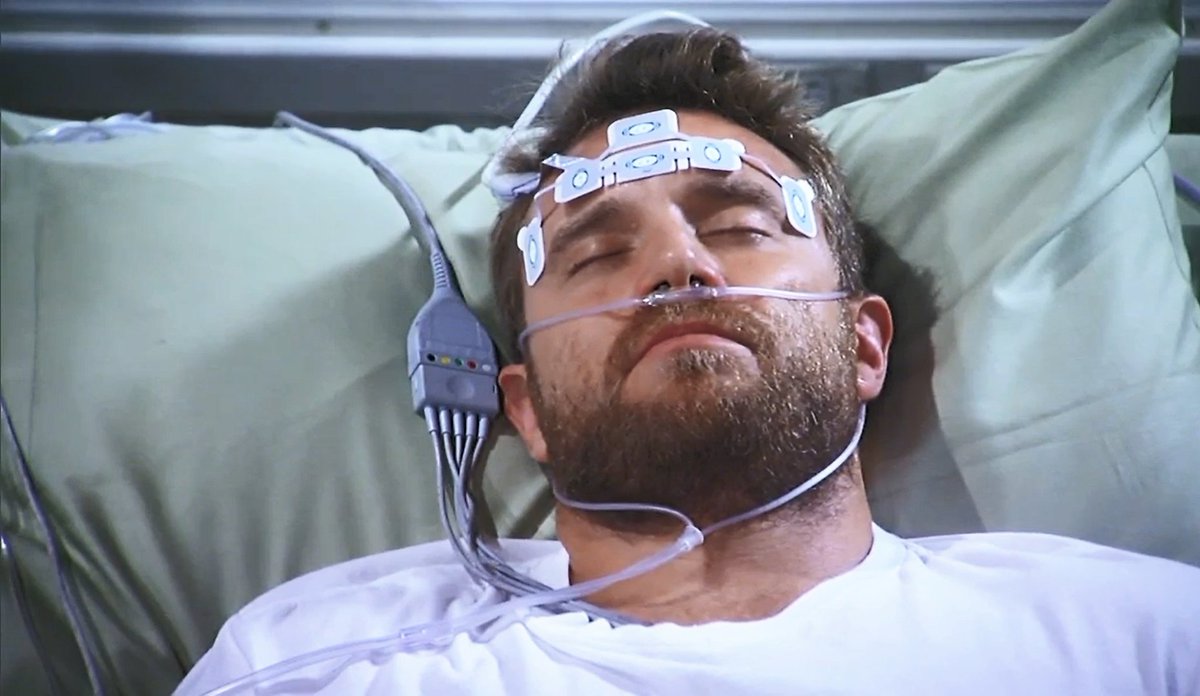 These days are going to go very slowly. I need to tell you that ever since Laura's return story in the early 80s I've HATED "dead returns". Why?? It took FOR-EVER for her to stop skulking around Port Charles and for Luke to see her. We had no spoilers per se then, so you had to watch every day. I probably got a C in my typography class because I skipped to watch!! (no recording devices either). It's maddening. The best back from the dead ever was Tina Lord walking in on Cord's wedding holding a baby. We didn't see her for months before hand. NOPE she just SHOWED UP!!
That's it for this week!! A new person is on the writing "staff"... and who knows what that means. Tamara Braun back? Here's hoping it's not a cameo. Here's hoping I'm not as crabby this week as last. It was brutal.
Waiting will do that to you.
**Please note: All photos this week reflect the never ending Jason Watch.
Pics thx to @4NovemberRain @SourceJenn @DaytimeSpoilers via Twitter