Well, it's 9/11 and every year I'm reminded that GH was off the air for weeks due to all the coverage-- rightly so, of course. At the time, I didn't think I'd ever watch "normal tv" again. The story of the hour when everything changed was "The End Game"--Cassadine-Spencer feud. The ending was changed because of the climate of the times and it felt for awhile anyway, that the anchor of GH was just blowing in the wind. It was also when I was first on the net, in the AOL folders and no one could believe what was happening. There wasn't any Twitter-- or Facebook, we only had these boards to talk on. Soap Zone was up so there was a lot of discussion there. Big Brother 2 was going, and a few places were chat rooms for that show. Just scary times.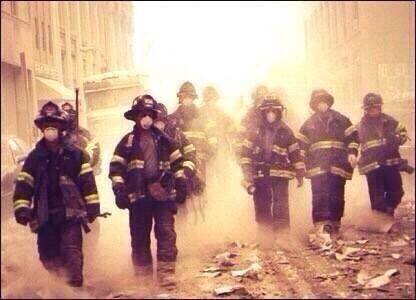 Heroes All....
TODAY'S SHOW:
Rocco's birthday. He and Charlotte are on. Olivia comes over with Italian food. Dante is worried that Valentin will take her away.
Lulu sees Ava sign Val's paper..wants to know what it is. UGH we are going to do this Charlotte crap even MORE?? Lulu lays into Ava. Ava lies about what they were talking about. She says a tapestry is being sold to him for Wyndemere.
Carson is at GH-- Sonny says the 5 Families are so happy he's still in the mob! It's a good "Balance of Power"! They are talking about moving in together but Sonny's worried about security.

Sam WON'T MOVE FROM JASON'S BEDSIDE damn it!! Jason--of whom we don't see his face. I think Miller was doing his contract at this point. She finally goes when Grffin says he needs to be alone with him to do an eval. Sam gets all pissy with Carly about Jason's condition. She seems to think Carly knows more than she does? HUH?
Griffin comes out and says the longer Jason is unresponsive, the more likely he wont' recover. He suggests long term facility. Sam freaks out. She's mad at everyone. She lashes out at Carly and Liz.
Sonny takes Griffin to the Metro to ask him "spiritual questions"..."Why was Jason punished and not me"?
Kiki brings over the poster for Franco's art show. (Title: TO Hell and Back) He's going to go see Heather though. He is all upset that Jason isn't waking up. "We are connected" he says.
When Franco goes to see Heather, she won't see him. He gives the guard the photo to show her an the BLT he brought. She still refuses to see him.
Ava tells Kiki she's going to a spa.

OMG. this is just like PULLING TEETH today..wow. zzzzzzzzzzzz