Alberta wanted shrimp in this photo and @AgentScully on twitter got it DONE!!
Ava talks to "Patient 6". Yammers away-- The Clinic Lady runs in and grabs her -- yells. Then Ava's phone goes off (which the Clinic Lady has in her pocket, it's Griffin). Then "Fix Your Face Doctor" walks in and introduces himself. Patient 6 hears "Cassadine" and balls up his fist.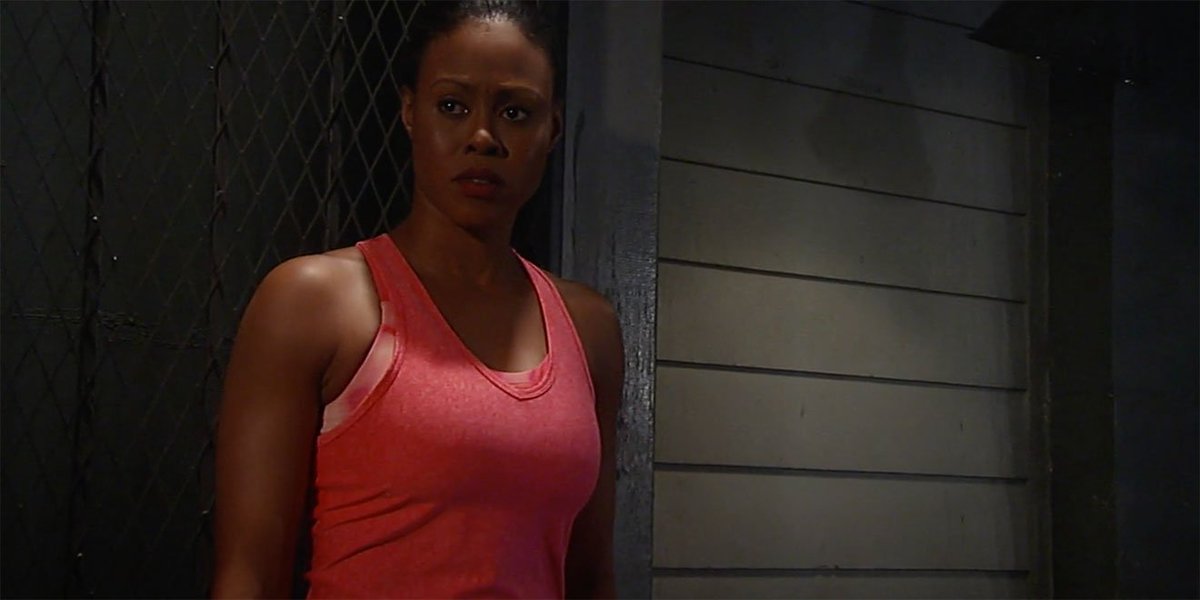 Sonny and Curtis make a deal...Jordan is not happy she heard that. Sonny leaves. Jordan wants to know what the hell they were talking about. He says "oh just bein' friendly". LOL She doesn't buy it. She says it will look terrible for her being police commissioner. She says either you have a relationship with me or with Sonny.
Scotty and Liz he wants to know what her 'intentions' are about Franco. He says that Franco is impulsive.
Franco's Mama-- says "Be careful what you ask for, you might not be happy with the answers" Then Mama says how do the boys fathers feel about Franco raising their kids? Liz says well, they do except for Jason... and Mama says "JASON ..JASON MORGAN"???? "YOU'RE RAISING Jason Morgan's CHILD"?? Then Liz invites her to dinner. She says yes--- and leaves.
Franco tells Liz he hates the Art Scene and leaves to go talk to Mom at the Metro. When he gets there, the door to her room is open. She's gone.
Franco's "Friend" Painting sells online. Lady says IT'S A FINAL SALE.
Sam on the phone waiting for Jason to wake up and his finger moved. She finally feels him squeeze her hand. She runs out: JASON IS AWAKE!! Sonny and Griffin look at her. Griffin goes in to examine him. Ut oh...only spontaneous movements he says. Sam won't believe it. She wants him home. Sonny says ok. Then he talks to her about what she'll have to tell the kids and what they'll see. He knows because of Michael. Oh good advice actually. She decides to put him in a clinic.
Anna blackmails Finn with his drug transactions. He says OK he'll go meet Cassandra. I still don't get this. AT ALL!! Griffin sees that Anna is leaving--with Finn. She said she'd get info on the clinic for him.
TOMORROW IS THE BIG DAY PEOPLE!! I hope I can make it