Finn used the jet to go get illegal pharmaceuticals which he bring to the hotel room. Griffin tells Hayden he thinks Silas is an addict.
Curtis and Nina 'Catch Up" at the Metro. Remember when they were friends. They are just using exposition to let everyone know about Nina's wedding. Yada yada. I guess they needed filler.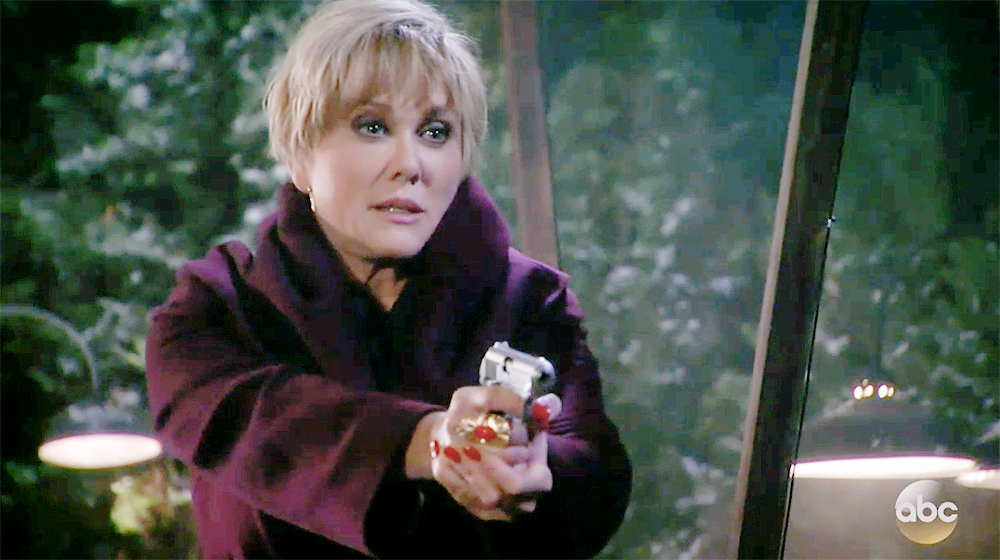 Olivia still has Sam on the bridge. She wants to stash her until she hears from Jules about the hospital. Sam figures out that OJ planted the bomb in Julian's car and killed Morgan. Really basic writing, imo. Just not compelling. Sam fakes a labor pain then they struggle for the gun.Struggle Struggle. Sam punches Olivia. Olivia lunges. Sam falls over the side...slides down the bank.
Jason and Robin talk in GH-- and she tells him about Anna. He asks her about Olivia Jerome. She says she hates her mother because of Duke and hates Julian because he killed him. Jason looks worried. He figures out that Olivia is alive.
Anna is wobbly. Val comes in "Can I catch you again"?? She said she was told that SHE ordered Valentin's assassination at the WSB but she doesn't remember it at all. She wants him to tell her. Anna says "I think it was so horrible I blocked it out". They of course, don't talk about it. He leaves. Robin and Griffin tell her that she can't really return to work as a police person or spy because she can't risk getting hurt with her condition. Anna's pissed.
Jules is in the bar. A guy from the GH board comes in. Says there's a snag in selling the hospital to Jules' client. He threatens the guy to make sure that the sale goes through.
NOTE: Nina calls the cops on Anna to report that she broke in to Wyndemere last night. Some cops arrests her.
Also-- Robin said "OH BROTHER" to Griffin in a weird tone-- and the rumor has it Anna blocked out his birth??
Who knows.