Curtis and Jordan are looking for Buzzzzzzzz and in a hotel room. WHAT COULD POSSIBLY HAPPEN? Curtis leaves to go look for the guy-- but comes back with food. I guess they have a history with the food. It's gonna lead to sex. You know it.
Sam sees Jules in Alexis' house. He leaves. Sam is like what the hell. Alexis says he's blackmailing her. She tells Sam that she hit Julian. She also says she's an alcoholic. She's basically spilling everything. "I may have killed Tom Baker"
Carly is back from Australia --not that I knew she was gone lol. Just was a lot quieter. She says Josslyn still hates Sonny. Michael is going to go talk to her.
Michael tells her she has 'misplaced' anger against Sonny and she's just not grieving. Joss Cries. Oh stupid Nell is there. No idea why.
Liz meets Kiki at Jake's. Before she gets there, Jason walks in and asks her what's up. She says she doesn't need help and to ask Sam if he wants to know what's going on. He leaves to go talk to Julian.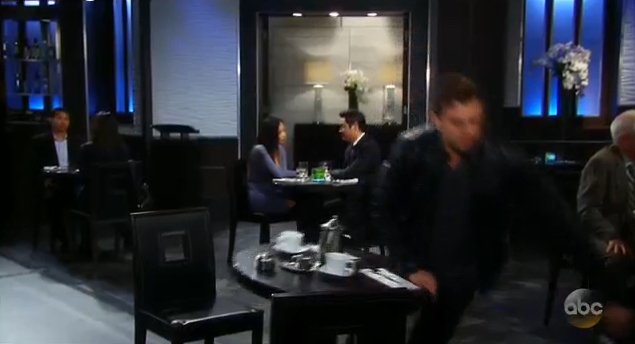 Julian tells Jason to sit down. He says he's living with Alexis. Jason drinks coffee. Olivia told Jules to kill him, remember...maybe this is it. YEP...he falls down in the bar after Julian leaves.