Naxie gets home. Tells Lulu Claudette is dead. All of them think she got murdered.
OMG Laura and Liz have the same convo in the same hallway--exactly!! IT's so redux.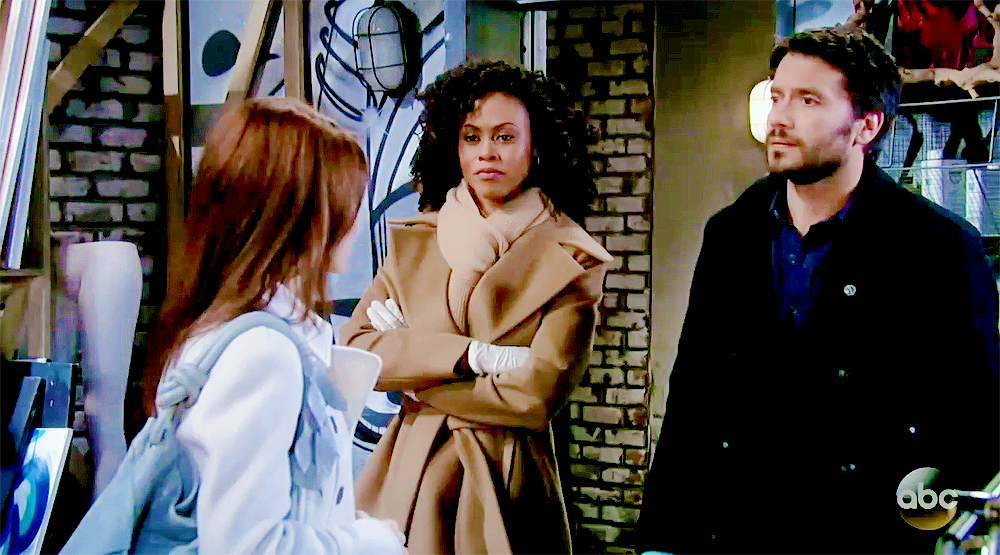 "Are you live tweeting about my mannequin"? Says Franco to Jordan. AHAHHAA.
They search and she likes Elizabeth's painting. Then Dante finds Tom's scary painting. Ut Oh. Elizabeth walks in and defends Franco.
Julian is yelling at Alexis now about trying not to drink. She's detoxing. She says she's going to an AA meeting.
This is so bad given what Julian did to her!!
Ok, so Alexis says she's going to AA at GH (would she go where people know her?) Um...
and when she leaves he calls someone and says "Do It Now". He got Gene the bartender from the bar (force-ably) and took him to the Lake House. Told him he "never saw Alexis and should forget who she is". She was NEVER THERE on the 21st. Yada Yada.
At GH, Alexis of course runs into Laura. They talk about Nikolas --for the FIRST TIME since (or even before) he died!!! That's this show. Infuriating.
Alexis finally goes into the room where AA is and sits down. She finally says she's an alcoholic.
Valentin admits he was in Anna's room on the night of her birthday at the academy. But won't say what they did. I think we know what they did? She says "what did you do to me" ...he says what if it's something YOU DID TO ME???/ leaves.
Scotty and Franco!! Back at Gene's!! They are trying to figure out what's happening. Franco says the cops are tossing his studio. They have best, most natural dialog banter going!
Ok, So end of show: Franco is hit with the brick, goes down in the snow.