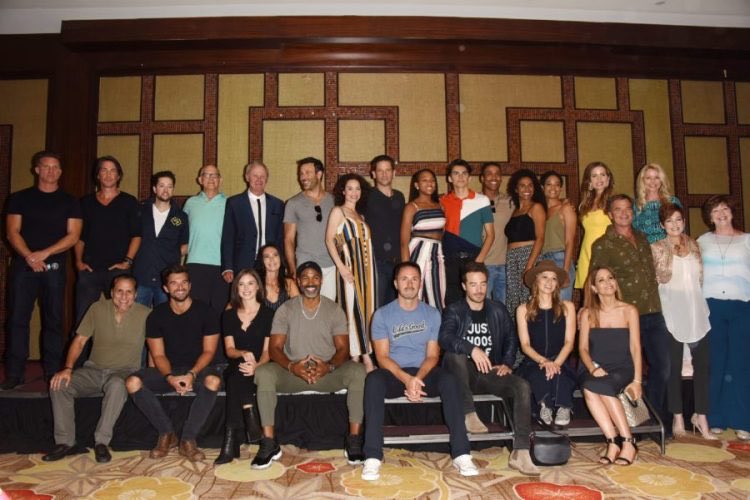 CAST PHOTO FROM GHFCW thx to @NivFansGH on twitter
Wyndemere: Jax tells Finn he's not "seeing" Hayden, it's just business. Hayden is off exploring and the governess we saw interview Willow at the Metro stops her.
The martini glasses were distributed and we don't know who got the "truth stuff"...although the way Hayden downed her's it might be it.
Nina wants to do a cover story on Cassssandra Pierce. Finn is like WHY?
Hayden comes back. Admits to snooping. Jax jumps in and says she was looking for the diamonds she hid before she left. Then, Hayden looks at Finn and says "Do you ever think about me, because I can't stop thinking about you".. WEIRD segment. oh DUH! it's because Hayden drank the truth-drink!! DUH. That's why it was so strange. AND she told the truth about snooping. lol
Finn says he doesn't think about her, he moved on and loves Anna. He says "you broke me when you left". He doesn't hate her tho. They stare at each other longingly. Everyone leaves.
Lulu's house: She's moved on to white wine. Laura comes in. Gets Lulu coffee "I had NO SAY and NO CHOICE"... she cries. Laura says it's frustrating and scary but she's not alone. Laura gives her a pep-talk about Dante walking away because he's broken and he needs time. Lulu's all crying.
Laura leaves, says 'no more wine".... and Lulu sits and stares at the divorce papers.
Metro Court: Sonny and Carly. Sonny tells Carly not to bug Michael on his vacation. The power goes out and Carly lets everyone have dinner on the house. The back up generator broke, btw. Dev comes out with champagne and caviar to give away. He picked the lock :eyeroll: His timing is SO off as an actor right now. I'm giving him time but..eesh. Sonny decides Dev is going to learn "the coffee business". He'll be working the warehouse now.
Puerto Rico...Cassssssandra tells Michael and Sasha she's in the "inport/export" business. Cassandra finds out that there's a dinner party at Wyndemere and Jax and Hayden are there. (Sasha tells her)--she goes to make a phone call. Comes back and invites Sasha and Michael to breakfast the next day. They say ok. Then they go have montage sex. :eyeroll:
Elevator Stuck: Alexis and Dr. Neal. Um..how many times has this been used on a soap? He needs to "be somewhere". His daughter died 5 years ago tonight. She was in a cult.. much like DOD but it was a drug related one. She killed herself, they found her in the bathtub with pills by her side. He always goes to a Karaoke bar every year and sings her fave song to 'her'.."Hush Little Baby". Alexis tells him to sing now. He won't so she sings. It's so sad. He's such a good actor....teary eyes and all. They end singing together and then the elevator starts again.
I LIKE DR. NEAL