Alexis goes to Kevin about needing a therapist. He says he can't be hers..too many conflicts of interest. Kevin sees Dr. Neal as a patient so he can't see her. She leaves, wants a woman therapist next.
Laura and Drew talk about how brave Franco was-- " I want to thank him". Drew tells her he might not be Franco when he wakes up.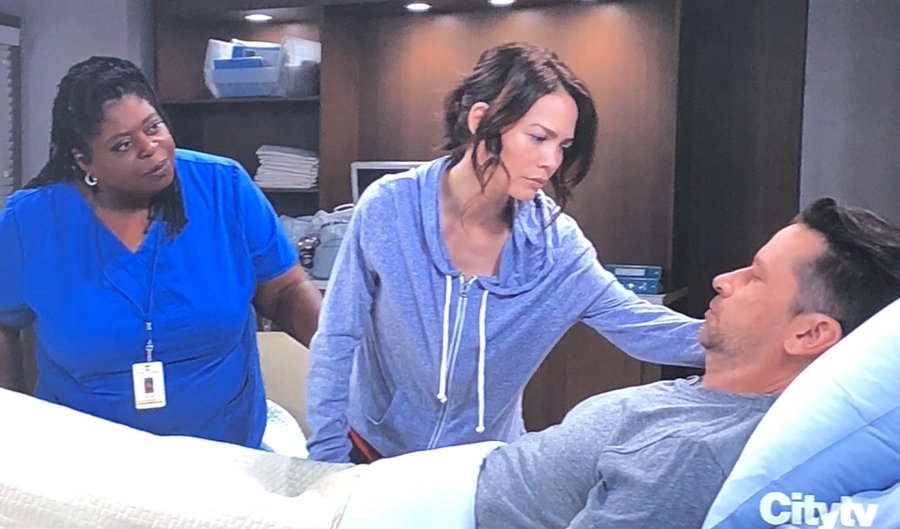 Liz tells Epiphany to tell Franco to wake up "He listens to you". Epiphany calls him a hero. Leaves. Liz cries "Wake up Franco, wake up".. Laura comes in and hugs Liz. They go for a walk and Drew comes in and talks to Franco. "you need to wake up for the family" He gives him one of his medals.
Later Kevin checks on him..beepers go off and Franco twitches. Opens his eyes. Asks for water. Kevin asks him if he know what his name is. Franco says 'Is that a real question"?? (I would give a million bucks if he said "Sure, I'm Todd Manning" LOL) Then Kevin asks him what the last thing he remembers is. THEN they don't show the answer--Kevin comes out and Liz rushes in. Franco looks at her and she says "why are you out of bed"?? Stares. Then there's a commercial.
For Cripes sake.
See the end down there for what happens.
Cam is cleaning up..he's pissed. Throws his stick. OMG I'm going to love "Angry Cam"! Trina and Joss ask why he didn't go to the movies. "I was busy being kidnapped" . Tells them the whole story. Says it's his fault. They say it's not.
CarSon is visiting Mike at the home. I think Mike is getting "Married" today. He didn't know Carly. Sonny's sad and says he's losing him day by day. Marcus brings Yvonne's fave dress but can't watch the wedding. Stella asks him out to dinner.
Mike tells Sonny he's sad not to have family there. He used to have a wife and son but he 'blew it" Sonny says "what happened to the boy"? Mike says "we don't talk and I don't blame him...it's too late now".
Lucy is in Charlie's appraising the place for Julian. She wants to know if he's keeping the decor. Kim wants Lucy to sell her place too. Kristina wonders if Julian told Alexis he's leaving. Of course, Alexis walks in 2 minutes later and tells her he's moving to Manhattan with Kim. Alexis' face says it all. She's pretty anxious and upset. BUT tries to be brave. Dr. Neal walks in. They work at different tables.
END:
Stella tells Marcus that her DNA relative has had a change of heart and wants to meet her.
Liz asks if she can get Franco anything and he says "Yes, my superior officer".. and tomorrow he tells her he's never seen her before in his life.
WELP!