The Island: Cassandra, Michael and Sasha. Michael and Sasha have sex again. Cassandra is on the phone and thanks someone for getting a gift to 'enhance' breakfast. They show a needle in her purse. She shoots Sasha's grapefruit full of the drug. Hey, that's 2 druggings this week! Cassandra leaves after getting a selfie with them. Maybe she's trying to get Sahsa hooked? There seems to be nothing with the drugs this time at least--they didn't show her being all weird anyway.
Drew has Chase come because of the break in. Curtis briefs him on what Shiloh stole. They are saying Shiloh has an alibi and someone must have taken it for him. Chase is going to get a warrant for Shiloh's room. (Count the number of times they all say "Memories'...holymoly)
Dr. Evil Pants is with Shiloh in some old hotel room..even has like a 1978 TV set lol . They talk about transferring the memories.
Jake, Jason and Liz at Kelly's... (same Jake, no aging!) Liz wants Jason to like Franco. Jason isn't so sure. She says he was sick.. he's like, meh. Liz says Franco was more of a constant in Jake's like than he was. Ouch. Cam comes in to pick up Jake. They talk about Franco while Jake is getting snacks for his baseball team. Cameron says Franco has been good to 'his mom, brothers and me' so he's ok.
Willow and Sam meet in the alley way/park fence thing. Sam wants to know more about Shiloh's "time in Afghanistan". Willow says it's all in the book Sam asks about "Tex". Willow doesn't know him. Then Shiloh walks up. He taunts them. Sam tells WILLOW she'll give her the money to get her tattoo off. Chase walks up to talk to Shiloh. He gives him a restraining order for Willow, Brucas and Wiley.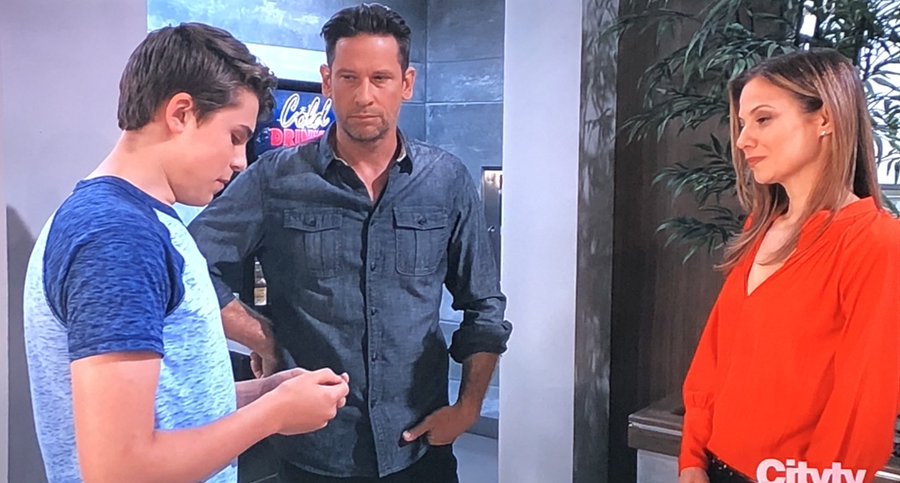 Cam gets Oscar's paperwork for the car. He has to transfer the title and has Oscar's death cert. Kim and Franco talk. He tells her she could have some art therapy to help her out. She wants Franco to 'be there for Drew' and keep being a good friend. Then, Franco tells Cam that the "parking space' will be taken care of. God, they talk about this parking space like it's gold or something. Scotty is giving Cam a parking space at his office building-- and it's free. It's also by their house.
Liz gives Kim a gift bag from the reception.. Kim is sad. She mentions about what she did at the reception and how desperate she was. Kim thinks she should leave town.
Hayden asks Finn about Casssssandra. He tells her about Cassie's past. blah blah
END:
Idiot Sam breaks into Shiloh's motel room to steal the flashdrive ...she finds it and goes to leave but Shank is at the door. He calls Jason and tells him if he ever wants to see Sam alive again, he'd better do what he says.