Valentin is getting all pissed off by Spencer. Spencer is squatting in Wyndemere lol Laura comes and gets him and says that Ava will testify at the Civil hearing about him killing Nikolas. After talking to Kevin about Spencer, she decides he has to go back to private school.
THANKS KEVIN.
Kevin and Laura at Kelly's--nice lighting.
Ava has that mask on, I hope it's just while the burn heals. Jules gave her an insurance check. Midway thru the show Valentin visit Ava. Oh, I can guess this: Valentin is going to offer his plastic surgeon info so Ava won't testify!!
She thinks he's going to kill her. Nope, I guess tomorrow he tells her about the surgeon.
Sam, Jason and Alexis in GH.... Sam's trying to remember where she saw Sonny. Later, she remembers their conversation outside the pit of doom. When Julian goes in to see her, she wants to call Sonny. She starts putting it together, "I saw you at the Metro Court and you told me to get rid of Sonny".
Jason goes into Garvey's room to threaten, beat whatever and find out where Sonny is. Garvey said he shot Sonny but didn't kill him. Then...he flatlines again.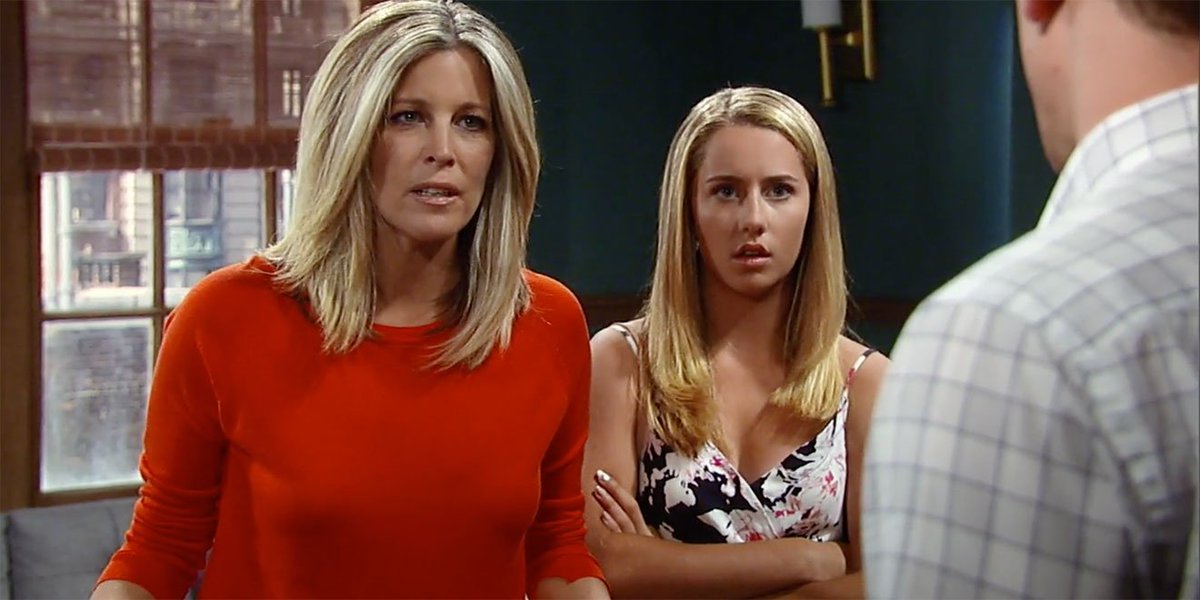 Josslyn shows Nell and Michael the bullet necklace. Somehow those idiots know it's a NEW Bullet. Just fired. Whatever. Carly comes in-- they some how figure out Sonny's probably down at the Black Duck because---of the "Fresh" bullet. Um, Okay then.
Sonny is out of the pit but now might be killed by the building's demo. LOL... Yeah, NO. this is so not exciting--we know he's not going to die. Carly finds him, she tries to get him out. (before talking to the construction guys OR calling 911) so they are both there and trapped just when they are going to demo the building.