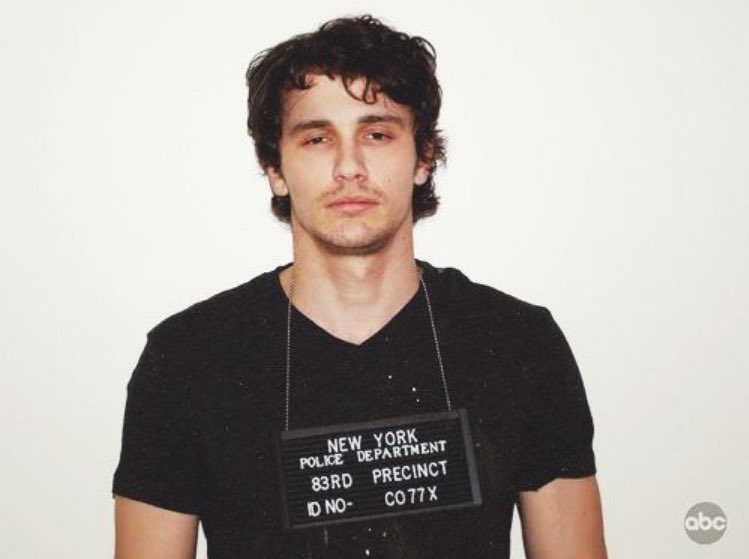 PORT CHARLES POLICE PHOTO
FRANCO IS BACK!! CO77x! ahahaha he's painting and listening to "soap alternative grunge" music! Man, people that hate Franco are going to go OVER THE EDGE! AHAHAHAA. OH CRAP on a cracker!! He's destroying his old paintings!! Damn it! I just wanted dark James Franco back. Poop. He's taking all his street art CO77x paintings and just wrecking them. :sobbing:
Franco rails against the art world saying his stuff was only bought because it was dark and bleak. NOT because he was a great artist. He's just a "basic psycho" . Kiki comes to check on him. Since he's moving into Liz', she can have the apartment.
Kiki says he shouldn't destroy his past-- that this was a phase. She thinks he should give it to Ava because you know, her inventory burned up.
Emma gives Anna that diamond that Spencer gave her. Is it real? Could it be? She asks Liz! She's not sure! Wow, is it a REAL ONE? zzzzzzz She almost faints and Liz gives her OJ. Guess they remembered her blood disorder. Then, Anna goes to the Metro and has the jeweler examine the stone IN THE METRO LOBBY. WTF? the LOBBY? lol..wow, way to hide it.
Val and Nina are blabbing at the Metro SUCH A BORE. Ut oh...Anna came in!! Nina's all huffy. Valentin says "I'll just ignore her"!
Ava wants to make out with Griffin but --you know--the face. Kiki comes over. She takes Ava to GH because she got stung by a bee and has a fever. It's actually the flu. Griffin wants to take her home but she's all NO! NO! (because she was having sex dreams of him). Ava goes off in a huff in the elevator
NOTE: Liz and Griffin should be together. Ava and Franco need to do some damage in PC. Just a thought!