Kiki goes to see Ava, wants to 'make peace"...they talk about Olivia's past. Hey, whenever Ava meets Olivia it will be too little too late.
Hospital is on lock-down. Finn is freaking out. Brad offers him some Zen Zen. Wants Money. They argue. Finn says "how would Lucas like you blackmailing me?? Would your marriage survive??" Brad gets mad...tosses Zen Zen to him but it's contact lens solution.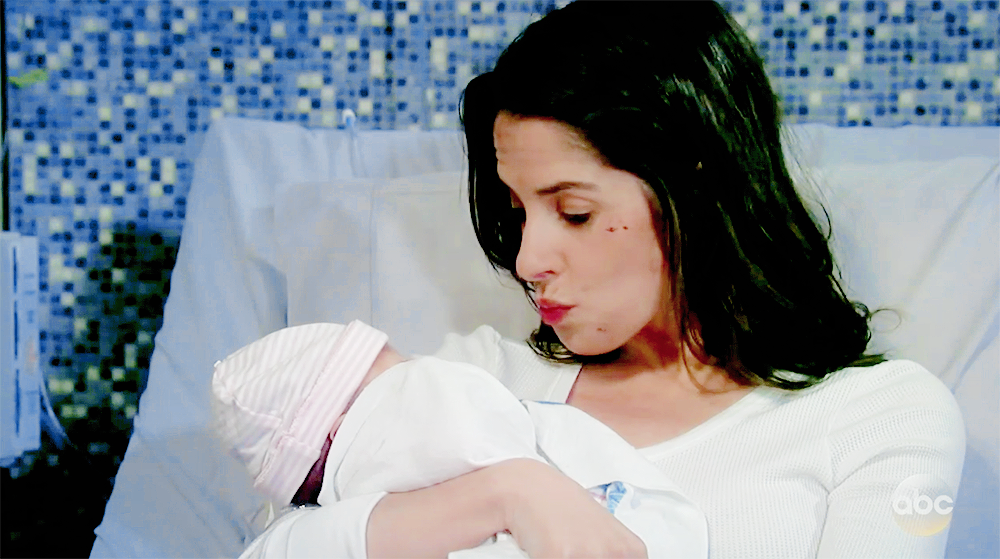 Jason with the baby. Then, Sam holds her-- "what should we name her"?? Monica comes in. "Scout is a bit plain" Sam says. Then they tell Mon her name is "Emily".
Carly goes to see Michael. She says "Don't have anything to do with Nell" and he thinks there might be more to the story.
Joss goes to Nell's

. I guess they've developed a relationship off camera

-- they are supposed to go to a concert together. Carly hasn't told Joss yet about Nell. Nell throws Josslyn out, tells her they are not friends anymore and to go home. Josslyn doesn't know what she did wrong.
Later, Joss goes to see Carly. Carly doesn't want to tell her what happened but Joss figures out Sonny slept with Nell. "GROSS" she says!
Nell goes to Floating Rib..and oh, Michael shows up. Nell is drinking. Michael's like " You don't drink". She says: I DO NOW. Michael tells her that he gets why she wanted revenge but he won't forgive her.
Olivia tells Anna she has Robin. Anna pushes her. Griffin should shoot her in the knee cap to find out where Robin is but........NO. And then Anna faints. Olivia just basically walks away because Griffin won't shoot her. You know, swap Olivia out for Heather and we've seen this story at least 4x before.
Olivia gets away, goes to Ava's and Ava finds her sitting in the dark, drinking a martini.
Olivia also planted a bomb in the elevator at GH. Or under it or something.