It's MONDAY!
Crimson: Peter is acting weird because he's thinking about Anna talking to him about the shooting of David Black and them working together. He goes to wait for Maxie at the Metro dining room. She finishes up some things. AND SPIN AND GEORGIE surprise her later! Oh, Spinelli says If all goes well, Georgie will be in Port Charles..Forever!! Ellie is going for a job in "Queens' Point" which is close to PC. Maxie is hopeful!! Sam comes in later and is happy to see Spinelli. She hopes he stays in town.
Metro Dining Room: Friz talk and kiss. He's jealous of Nikolas lol. Jason comes over. They talk about Jake's art camp. Franco says he heard they bonded during his brain-change. "We built a tree house together, right" .. Jason's like "NOPE not with you". Liz tells Franco that Jason talked "Drew" into having the procedure tho. Jason's like: THANKS a lot, LIzzzz.
Peter walks by. They gush about him being a hero. Liz wants him over for dinner. He's like: NOPE. Jason side-eyes him...wonders what's up. Peter leaves.
Friz eat. Liz says that "Drew" left Franco a message on Cam's phone and she has it. It's a video.

Sam is at the PH but calls Jason to tell her she'll be at the Metro for dinner. Maybe they'll run into each other? Alexis overhears and flips out. Sam tells her about the plan with Robert except who they are going after. Sam leaves and Neil comes in.
He was in Mount Claire seeing family, just flew back in. Awkward moment. Alexis wonders what's going on with him. He says he's losing his medical license because of her! Dun Dun Dun
Anna...and Robert comes over. He found out she had the file on David Black. He asks her if she found anything on Peter. She lies and says no. He says he hopes she's not covering for him because Peter is going down and he doesn't want to see Anna go with him. GREAT scenes. So much between these two. He leaves. Shows Anna hiding the evidence she found in the police file.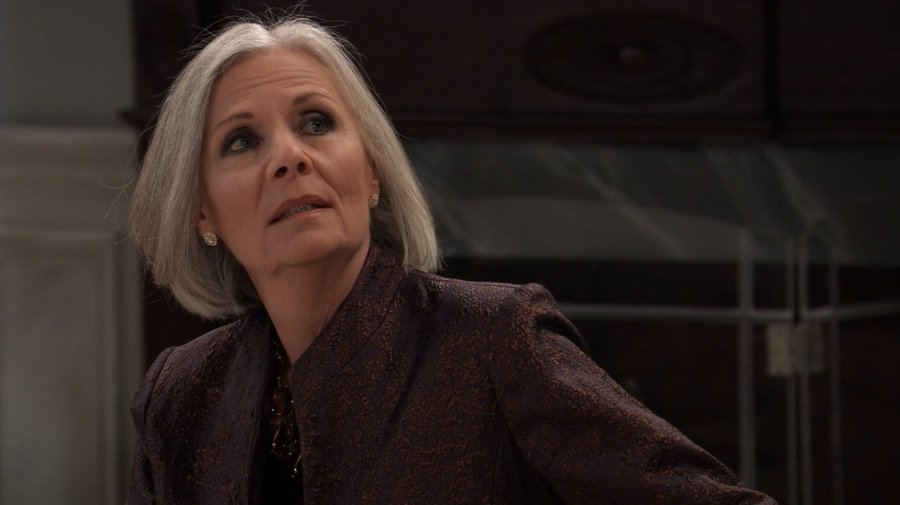 Q house: Tracey doesn't care if Nikolas is alive... she's like: Meh. lol Brook changed her last name to Quartermaine. Since Ned did, she wanted to as well. Tracey is like: What's your angle? Michael said she booked a gig at the Floating Rib. (ergo she can sing under a different name I guess). Michael says she Can't perform even if she does change her name. She says too bad and leaves to go sing. Ned asks Tracey what is up. She acts innocent. He thinks she wants to take back ELQ and run it. She says no.."but someone else does" OH!! who can it be??! EEK!! NELLE?
Lulu and Dustin are at the Floating Rib. They are about to leave and he goes to the men's room Lulu turns around and Brook Lynn and she collide and Brook spills a drink all over her. They have a good snarky time. Brook goes to sing and her raggy producer comes in and stops her. He gets in her face and gets gross with her and she decks him. Lulu comes over to help. Dustin takes the guy and slams him against the wall. Brookyn says: Dustin?? Dustin says: Brook Lyn? Oh they know each other!!
Michael says he's going to the memorial! WHOOT! I think it starts tomorrow and I will be out at a check up.!! I have to get them every year because I work with kids for the county.