I guess GH will air on Turkey Day so we won't be so far behind?? SO-- hope your DVR is set.
Mike can't tell where his shoes go-- Oh no.. end stage is coming or is here. So good to see Stella. She tells Sonny that he has to forgive him while he can. Sad.. Mike is getting angry now too. Big cognitive decline is coming. Stella says goodbye and tells CarSon she and Mike made a pact: when the time came, tell them to let him go, and that Sonny was a good son. Crying.

Neil tells Julian about the rat poison. Julian says: HUH..I have a lot of dead rats behind Charlies!! He then says it was weird, he talked to Kendra behind there and then the rats turned up dead LOL. Neil tells ALexis he thinks it's Kendra doing the poisoning.
TJ asks ALexis for Molly's hand in marriage. She said Molly would hate that. Molly is her own person. She can do what she wants but she's happy he thought of her. Wonder if he'll ask Ric?
TJ tells Stella he wants to marry Molly..and she's happy but there's something she says will be a long road for them. He says yes, I have to finish medical school, yada yada. She says NO--Molly is white!
wait..whaaaaaaat?
They have a long discussion about being a young black man in America now and her fears; it's a great scene. Very much about that more than interracial marriage. She says she gives them her blessing and will be in the front row for the wedding.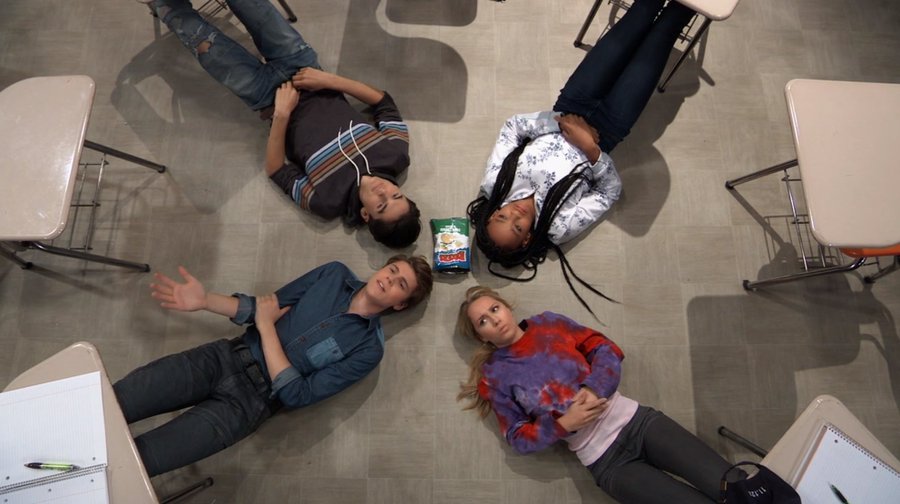 Kids at School-- LOL. Joss has on her DISNEY PLUS HAT!! Product Placement!! They talk about Lady and the Tramp too. They are in detention for the drinking on the boat. Telling secrets: Trina's is she did a DNA thing online and got a hit in Port Charles but is too scared to see who it might be. WE KNOW IT'S STELLA! And I'm thinking probably Curtis. Cam says he can't think of many secrets because he's known Joss forever but he's sure DEV has some!! LOL
They press Dev..Dev says he cheated in school and his father sent him to live with Sonny. Trina's like: Um your dad is dead! LOL.. then he calls Sonny "Uncle Sonny" not cousin Sonny. They know something is up and want to know who he is!!
Monica invites Drew Co to Thanksgiving... He says people might not like it. She says "Its' my house". He also tells her there's a storage locker in San Diego with things in it..she may want them for Drew's daughter. Ut Oh, you know storage lockers are never good.
Liz and Monica talk. Monica's afraid that Drew will be hurt in the procedure (she calls him Drew). Liz says it's worth it.

Julian yells at DrewCo for hurting Kim..weird scene, imo.