Note: there's a great GH gift guide on Soaps In Depth with some things I haven't seen before! Michelle Stafford's Skin Nation is also a great gift, find it on Amazon. I think the Port Charles Travel Guide is a really fun book for any GH fan!
ON WITH THE SHOW:
Hayden is at the docks--She gets a call from Valentin, she stalls him. Nikolas comes over and tell her he saw her at Wyndemere and heard what Valentin said. Nikolas tells her she has to leave Port Charles and change her identity. She's like No way. NOPE. He says "your best and only option is to leave". She says she won't do it. She has too much to lose if she leaves. See below
Dustin wants to take Lulu and Rocco to the Port Charles Thanksgiving Parade. (they are going to the Qs in the afternoon). They kiss and are going to meet the morning before dinner.
Laura goes to Jax...Nikolas hides. Then leaves. Laura was invited to the wedding of Nina and Val and can't figure out why. She also wonders why it was his credit card stolen. THEN Tad comes to the door and he wants to see Jax and is glad Laura is there too. He wants to know about the portrait! He says he represents a client who bought it from the Gallery and now wants to sell it. Shows them a photo of it. They say they have to know who it is if they are going to sell it. He says no, leaves. Then..Laura and Jax talk... Tad comes back a bit later to get the iPad he left. OH, he was TAPING THEM! DUH!! GOOD plan by Valentin! Tad goes to Wyndemere and lets him hear the tape and now Val knows about the COD-A-SILL.
Charlotte wants to go back to school, Val says it's dangerous. She thinks back to what Nikolas said about being her bodyguard and she's always safe. She does't tell him tho. Valentin hugs her and says they'll be a real family after the wedding.
Then Lulu comes over to get Charlotte for the day before Thanksgiving. She leaves. They go have lunch. Lulu shows Charlotte pics on her phone. Lulu goes to get their food and Charlotte looks thought the photos and sees a pic of Nikolas.
Neil tells Alexis why he thinks Kendra is poisoning her. Tells her about the dead rats at Charlie's. Alexis can't figure out why it would be Kendra. Neil leaves. Kendra comes to visit Alexis. Alexis is suspicious. Alexis tells her about the poison and the police are on it. Looks for Kendra's reaction. Kendra is like: Ummmm.... here!! take this pill, it will relax you!! Derp. Alexis fakes taking it and gives it to Neil.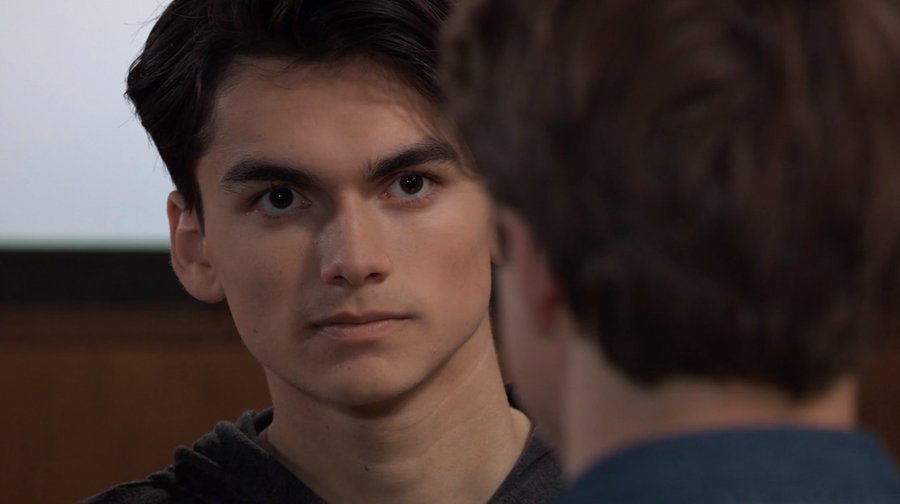 Detention: Joss spills that Dev isn't Sonny's cousin. They tell them the whole truth. Trina and Cam have a million questions and can't figure out why Dev didn't just ask for asylum. Then Dustin comes in. Tells them all they've made "Bad Choices" and yada yada. Hopes they don't make any MORE "Bad Choices".
Later they all make a pact to protect Dev's secret.
END:
Nik leaves the dock and Hayden is attacked by a hoodie guy. Maybe Nik hired him?? I mean, tomorrow, Nik is back telling Hayden to leave again??