Robert is going to take Peter to Germany-- Finn wants to know how to rescue Anna. Robert wants Finn to put a tracker in so he can be found. Finn gets on the elevator and is followed by a goon. They take him to some room and beat him up. :eyeroll: They say he's going to help with the 'special patient." Gotta be Ryan? Or Kevin?
Nina tells Maxie Obrect escaped. The baby dying and Brucas adopting. Later Lulu comes by to gab and show them her "conclusion" to her story.
Stella sees the baby--coos over him. Brad looks sick. Oh please for the love of GOD don't have him be all guilt-ridden for months. UGH I will NOT be able to deal. Brad gets called to the PCPD because Nelle is missing. He is very anxious.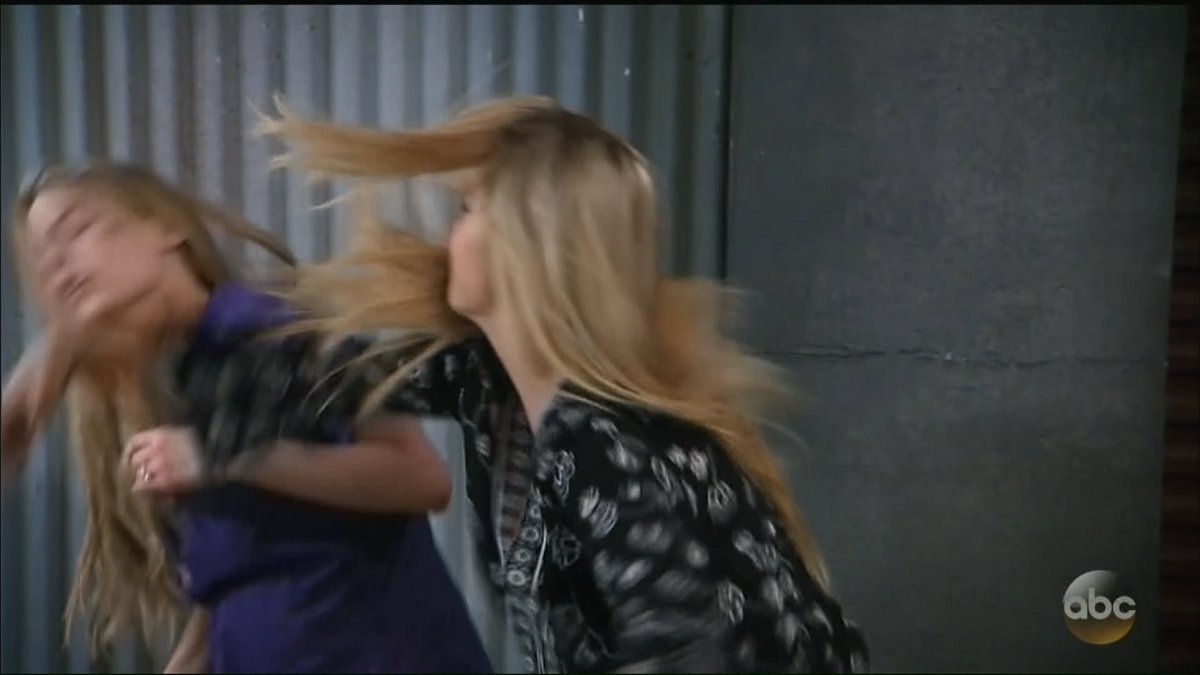 Nelle and Joss-- Joss tells Nelle she followed her out of the hospital and didn't tell anyone so she could 'handle it". OH man, Joss, you are NOT UP FOR THIS YET! No offense but you just aren't there yet!! So, they banter and Joss finally pulls out her phone to call the police. Nelle grabs her-- says they are sisters, bonded. Joss says NO WAY.. You've messed with the wrong family bitch. Nelle grabs Josslyn's phone, throws it and shoves Joss to the ground. Joss has head scrapes. She gets up and punches Nelle in the face. They fight and Joss ends up slamming Nelle into the wall. Jordan finally gets there to take Nelle away.
AT the PCPD: Joss and Nelle come in. Nelle is in the interrogation room. Chase and Jordan are there. Nelle said "He's horrendous in bed, you know" AHAHAHAA> Chases face!!!
Curtis tells Stella that he heard from his ex--Shaundra. Stella loved Shaundra and wanted her to know he was getting married. She said someone "wise told her to back off"
Robert goes into Peter's room to take him away. They banter. Roberts says "you're going away and your mama can't save you". Peter says he can help the WSB with info on patients 1...2..3..4 AND 5 !! Which we know 2 are probably Kevin/Ryan.
WHY DIDN'T Carly just have another blanket made like the one Ava took? Take it in to show the PCPD? I mean... it's a BLANKET, not forensic evidence. Tell them she found it at the Qs under the mattress.