Quick Run Down: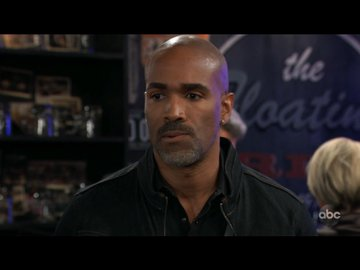 Nelle, Sasha and Willow all end up in Charlie's Bar. Willow throws a drink on Nelle. That scene wasn't as fun as it should have been.

Britt can't believe Brad plead guilty. He tells her how mean her mom has been to him. He has to go sign that waiver thing in the judges chambers.

Aunt Stella got home from England... they talk about how depressed Curtis is.
Jordan gets a pic of TJ while she was talking to Cyrus. He's being held somewhere and looks beat up. She asks what he wants. We never find that out.
Chase thinks it's a good idea for Michael to marry Brit.
Ned and Brook Lynn talk about family. She's going to be an 'executive" assistant. She mentions Luke's Club and L&B records
END:
Jordan goes home. Freaks out... tells Stella she can't stay at her house.
Britt goes into Charlies' bar and tells Julian she knows he knows about Brad
Michael and Sasha talk about getting married
Jordan never manages to tell Curtis about TJ yet.