Nellle got the job at Crimson. I swear she worked with Nina long ago..right? They went to India together? YES, Carly said "I can't believe you'd make the same mistake twice"
Nelle leaves-- Carly just BLABS BLABS AND BLABS to Nina ABOUT how BAD NELLE is but Nina has a plan to 'turn the tables' ...She said that she will testify against her at the hearing LOL They talk about getting Nelle. Nina shows Carly the necklace she has-- (I'm sure Carly will see it somewhere).
Jordan tells the gang about TJ. Sonny says to set Cyrus free so he can "Be taken care of". Curtis is on board. Jordan doesn't think so. Of course she has to say that. Jordan is like no, I'll go to jail. Curtis says there has to be a way to find TJ. Jason has a plan to have Jordan "find out" about the set up of evidence against Cyrus and tell the feds her team (not her, the dead guys) framed him. She can say she was totally unaware. Jordan doesn't want to tarnish their memories. Sonny says that's what Taggert would want her to do.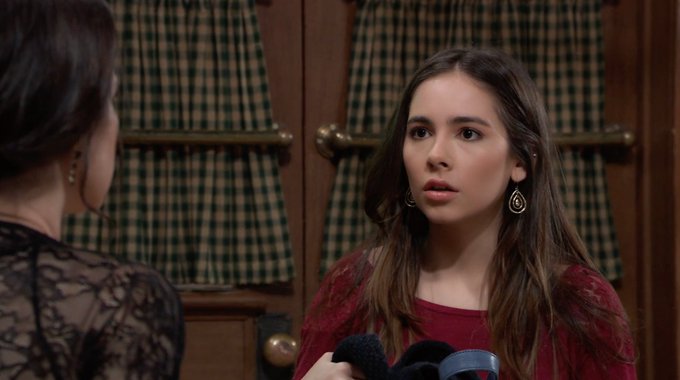 Sam meets with Dolores. Spinelli follows her when she leaves. Then, Molly comes in all upset about TJ. She's all upset. You know. Sam traces TJ's phone again and it's at Jordan's apartment complex.
Monica welcomes Portia to GH who was at Mercy.
Wiley is sick. Monica is like "chill..lets get him in for tests". Michael is worried. The hole in Wiley's heart didn't close on it's own. He has to have an operation. Michael is worried. Monica tells him he had his operation when he was younger than Wiley and he's ok. Michael is worried. Because it's an elective surgery Nelle has to sign off too!!
END:
Molly saw SaSon leaving Jordan's apartment.. She's going huh?
Spinelli got caught following the Council guy and parole lady heh
Nelle refuses to sign the surgery consent. Wants a non-invasive procedure.

Trina is at the Gallery ..lord she skipped school for this! The school called Portia! Portia comes in "what are you doing here'!! ?? She's mad..and angry at Ava for not knowing it's the middle of the day. Ava's like..um, can we communicate? Portia says her daughter was just kidnapped the other day and her father was murdered.
Spinelli follows Dolores to The Rib... she's with a city councilman !! Ohhhhhhhh, interesting.