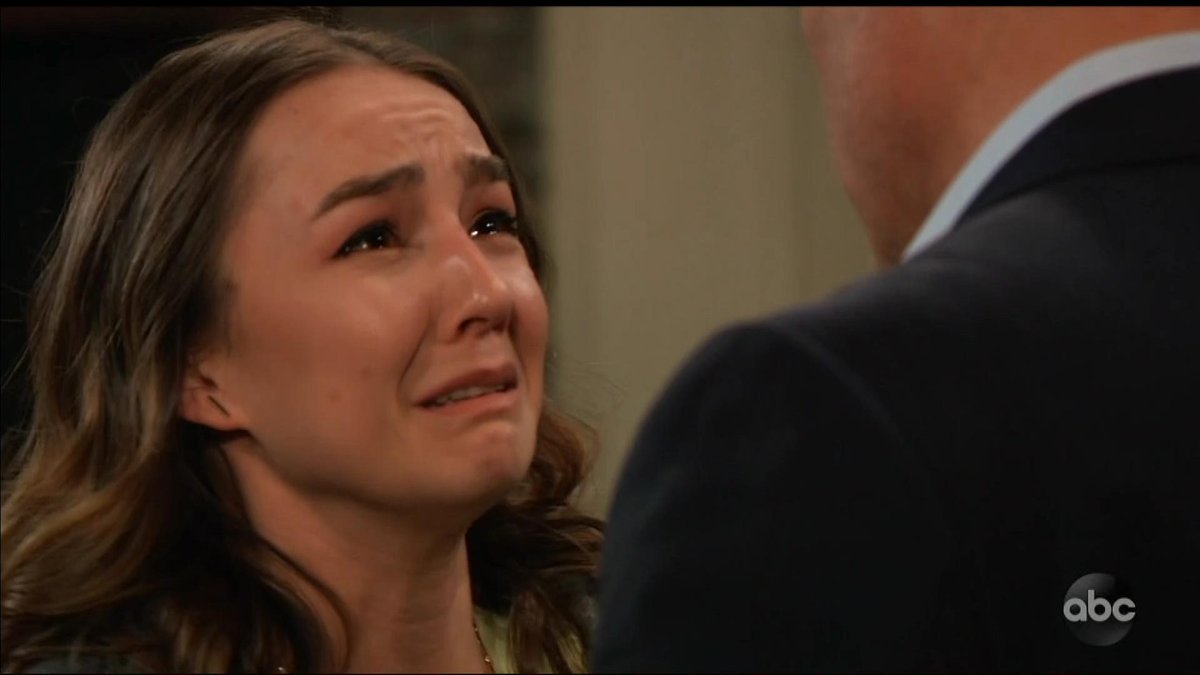 TAKE ME BACK THERE, PLEASE!!
"You were in a bad place and I took you out".. Jason to Krissy. She's mad. "MY CEREMONY, MY CHOICE"!! Sonny comes in
YOU HAVE TO WATCH THESE SCENES!! Lexi and Mo NAIL them. WOW. She sobs, yanks away.. gets furious...they are so good.
Alexis comes in. She yells at Alexis.. then Newbie Doctor Neal comes in. Alexis is surprised. Sonny is surprised they know each other. Krissy tells him her parents need therapy. Runs into the bedroom.
Dr. Neal explains that if she goes back to DOD now, with this level of rage, she will probs never come back.
"It's like he branded you" ..Chase to Willow. She said he did, but "now it's just a tattoo". They are SUCH a Hallmark movie! Michael comes over. They have breakfast (he seems ok with the whole thing_). He has a plan to use Willow somehow to get to SHank.

Why would SAM go to DOD?? Shiloh doesn't suspect her I guess. DERP. SO, she plays stupid about Krissy and MOLLY charges in!! Yelling at Shank and is like SAM!! WHY ARE YOU HERE? Looking for Krissy?? Sam is like, no.. no biggie. Molly doesn't know about her undercover work and is like ARE YOU INSANE?? GOOD Scenes. Molly flagged passages in SHank's book showing how narcissistcic he is.. LOL!! Sam doesn't tell her about her plan-- Molly says she won't drink the punch like Krissy and she did. When Molly leaves, Sam smiles and is proud.
Harmony says the CUP IS MISSING!! Shank freaks out. She says they have to find it, it can ruin them!
Oscar Death Watch 2019: Oscar can breathe without his tube and his eyes fluttered. CarSon and Joss are waiting in the hall.
Oscar can't talk because of the breathing tube damage (good touch). Terry wants to examine him alone..and Kim and Drew go out to tell CarSon and Joss.
Joss goes in to see him. Terry says the last seizure took it's toll. Monica arrives. Joss goes to see Oscar. Terry talks to Monica, Drew and Kim. He probably won't be able to walk.. and she thinks it will progress quickly. Drew tears up. Monica says "We have to figure out what we do now"
Drew and Kim go in to talk to Oscar. WOW, Billy Milly is breaking me. ME!! ME!! WUBSY ..it's so sad. They tell him his tumor is growing and he says "well, it's the end then".
END:
Monica cries in Drew's arms..GAH
Kim cries in Jules' arms.
TOMORROW ..AND OF course GH doesn't continue the momentum...it's all different stuff! This makes me so angry, it was SUCH a good show today, why do they DO THIS?