Oh boy--so I hear that Valentin knows some stuff about Henrick. Not surprised. Don't care-- but not surprised.
I'm still on a semi-break because of darling dimple dog Tillie. It's so great to not watch TV as much (and you know I watch TV!!) It's also the time of year my reports are starting to be due so I'm busy right after work.
Here are some of my thoughts:
**Kevin is in the whole Mind-Mapping Ring, may even have the disco-ball.
**Mike has Dementia
**Nelle will end up living at the Qs. Just a feeling. Monica will encourage it
Things I don't really care about:
Julian/Kim/Alexis/Finn musical dance
Ava (sorry) and Griffin
Kiki and whatever
Started to not care about the mayor thing. I think they had to re-write a lot because of Genie leaving so the momentum is gone.
Henrick and Anna--I don't care. Sad, but true.
Whatever Lulu is doing
and...most of all: I DON'T CARE WHO SAM CHOOSES. UGH tired story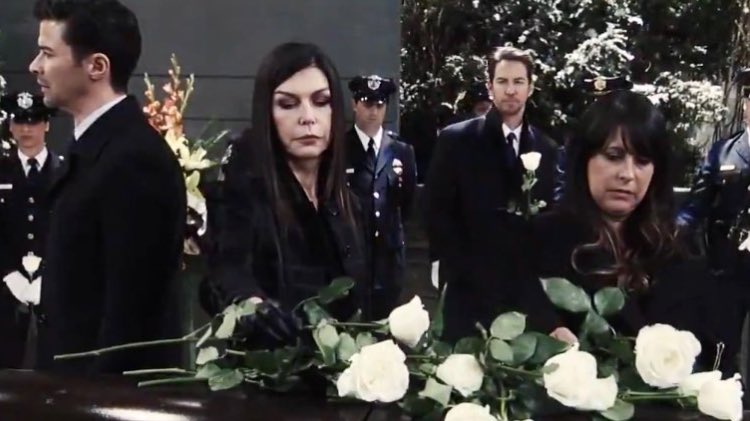 Tomorrow is Nathan's funeral, I'll try to watch that. Mike's story could be intriguing but it should have been Bobbie or Monica. Drew's past memories also interest me as does Nelle making Carly cranky.
Other Stuff:
I saw 32 Pills on HBO--good documentary if you like those. Finished Season 2 of the Travelers. Light fare for NetFlix but I enjoyed it a lot. The only shows I'm watching on regular TV are The Middle, Blackish, The Alienist and Versace. Sneaky Pete is back next month on Amazon. yeah!!
Some News/Notes:
Ron Hale is retired from acting so didn't want to come back to GH, so-that's why there's a recast
Kim McCollough reported she is back home after the devastating fires in her area of CA.
Kirsten Storms IG'd that she's NOT pregnant in real life.
OMG we are getting a LOBSTER Emoji with the next update!! Alberta is thrilled.
Ok, Enjoy the day! Thank you for the Amazon orders over the holidays! I hope I can catch up on this week enough to do Surgery on Sunday.