I finished the Gilmore Girls Friday and I can't stop thinking about how much I loved it. I'm going to watch again just to get all the stuff I missed! Fall was my fave of the episodes.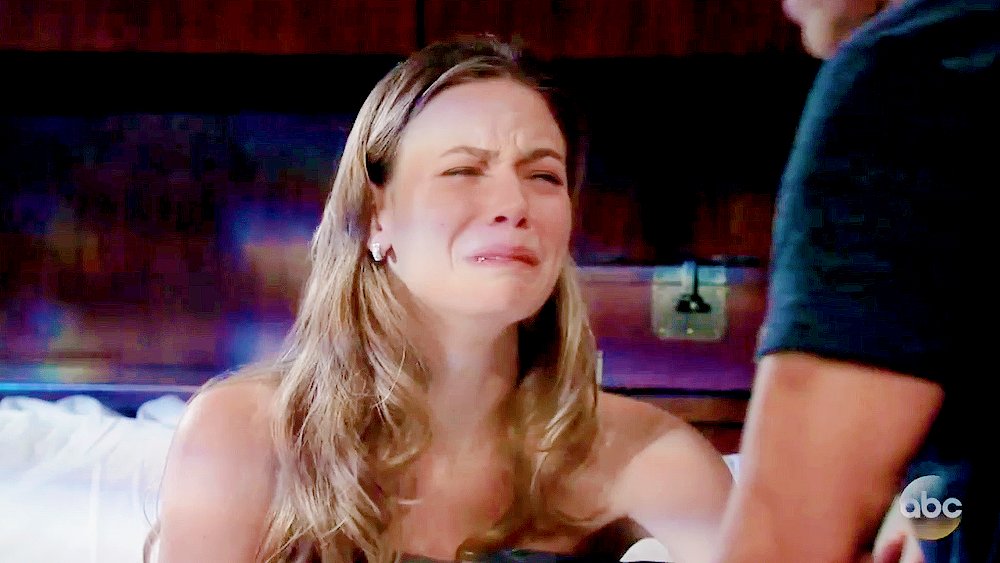 BUT I WANT IT NOW!! So Veruca Salt.
Bringing me to GH. I'm not sure why you suffer through these every Sunday but by the blog clicks, I haven't lost too many over the years!! GH is totally in a downward spin right now--I mean I can't think of one thing I really care about all that much. The dialog is so..so.. 'un-snappy". REALLY tedious. But, there I go again!
Honor of Gilmore Girls: Pop Tarts, Red vines, some pizza and old Chinese takeout!
This is literally what has happened with Ava, Sonny and Julian for the last 3 years:
Sonny: I'm gonna kill Julian!
Julian: Well, I'm gonna kill you
Ava: I'm going to get justice!
Sonny: I'm gonna GET JUSTICE!
Julian: No Justice! I'm gonna kill Sonny...
Ava: Well, I'm gonna kill Sonny
Sonny: You're gonna rot in jail
Ava: NO, you're gonna rot in jail!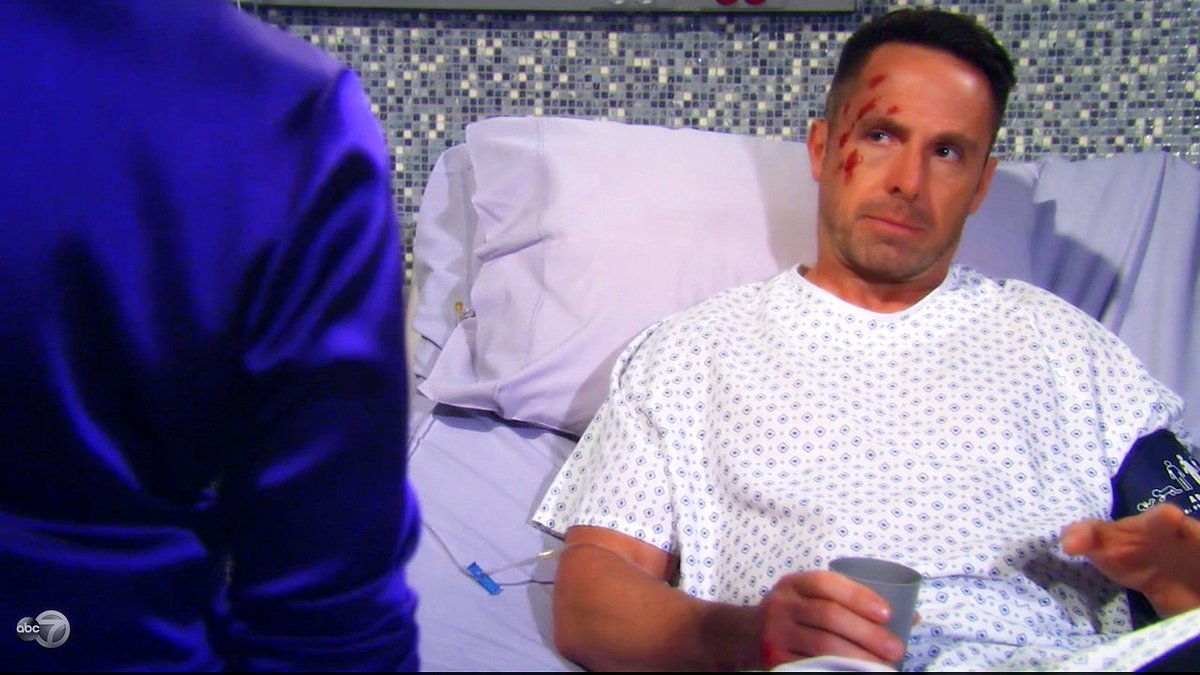 And what happens this week? Welp...Julian and Ava are back saying they are gonna kill Sonny again.
Dear Writers: WE KNOW YOU ARE NOT GOING TO KILL OFF SONNY.He won't even go to jail for a hot minute! If Sonny even makes it to trial, he's either going to get found innocent or get off on a technicality after serving X amount of time. THE SAME thing for Ava and Julian! They've ALL been to jail! They've ALL tried to kill each other. They've all killed other people. Can we stop this, please? For the love of GOD PLEASE????
Thank You. Sincerely, Deja Vu Wubs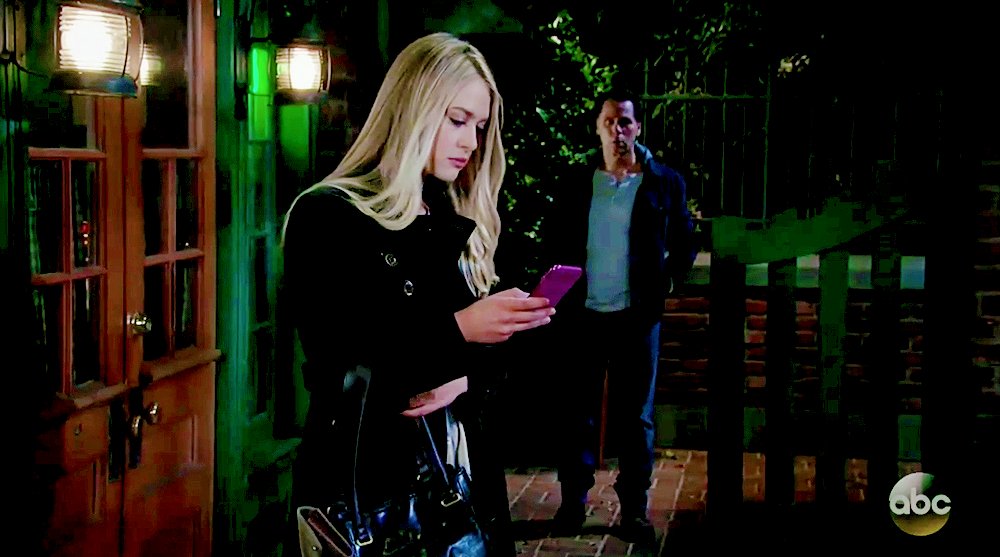 Dilly and Kiki have now turned Amish in this whole scheme of things. Their convos are painfully dull. "What are you going to do with your life" "I donno, what should I do"? "I dunno, want some coffee"??? Now Kiki has that rat bastard TOM stalking her. Can GH not use females as people needing rescue?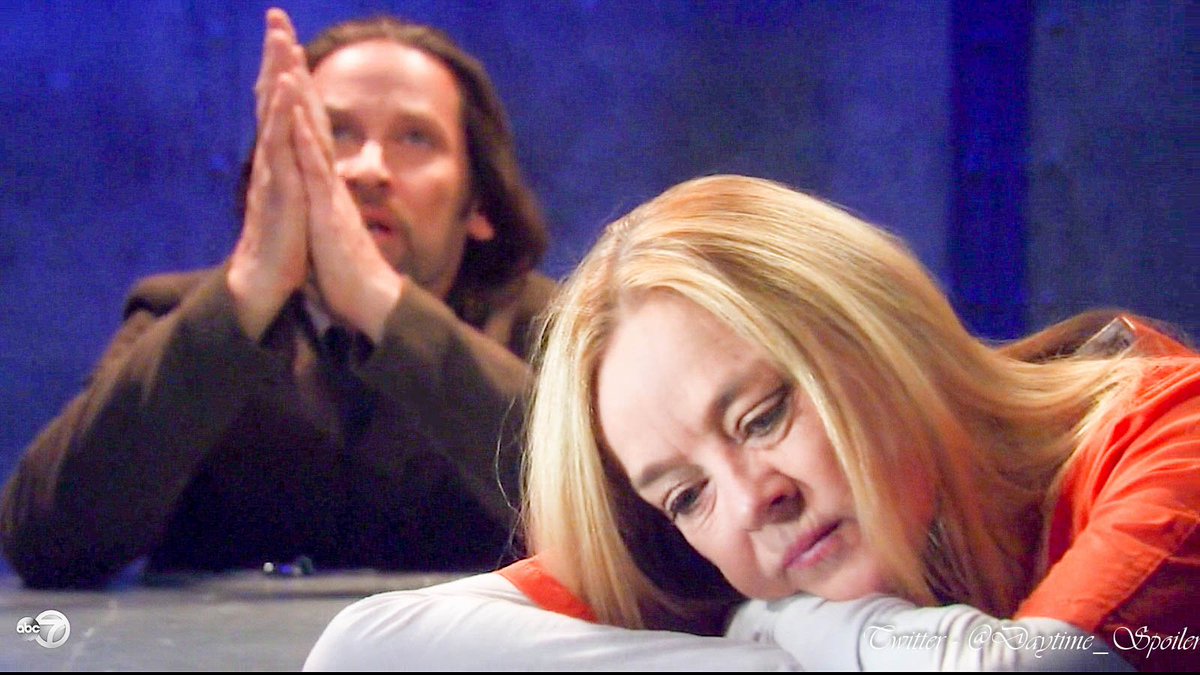 And what the HELL with Franco? If they are trying to make anyone who didn't like him like him, ummm, that boat has sailed. Now you are just turning him into a guy that is going around trying to strangle a rapist. He talks to his mother about "losing it". Is this romantic with Liz? Is this what viewers want? I mean, you know I love Roger but... come on. I can't see the end game on this at all. Even Roger and Robin are like WTF.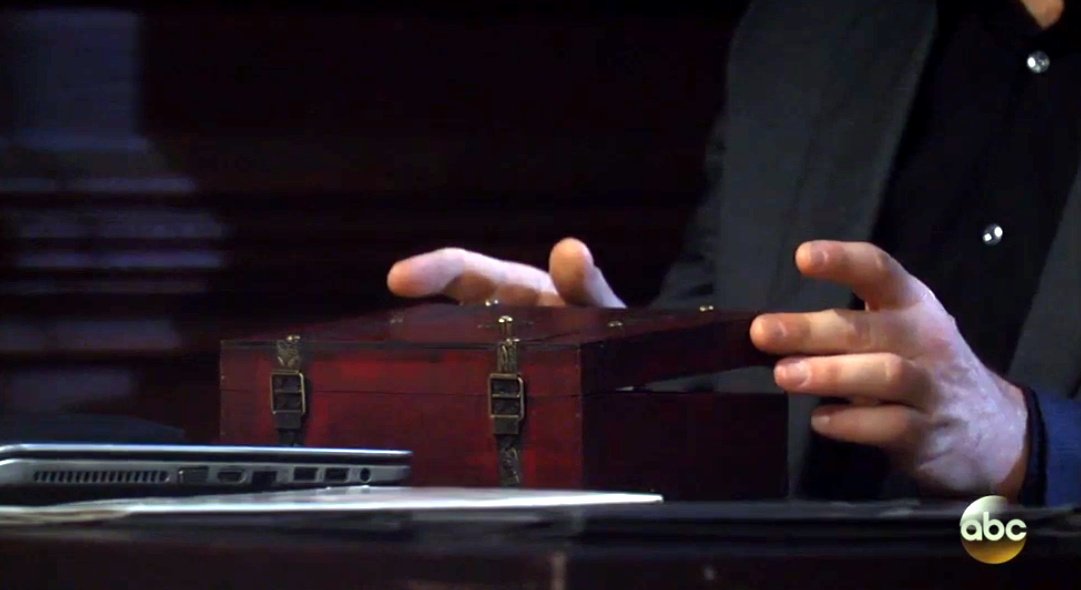 Valentin. Who is he? Who was he to Anna? How is that box of pain he's playing with? How's the Latin coming? Yada yada. Can't wait for the next egg to drop. (get it? hahaha) Lulu's going to be all over Charlotte next week.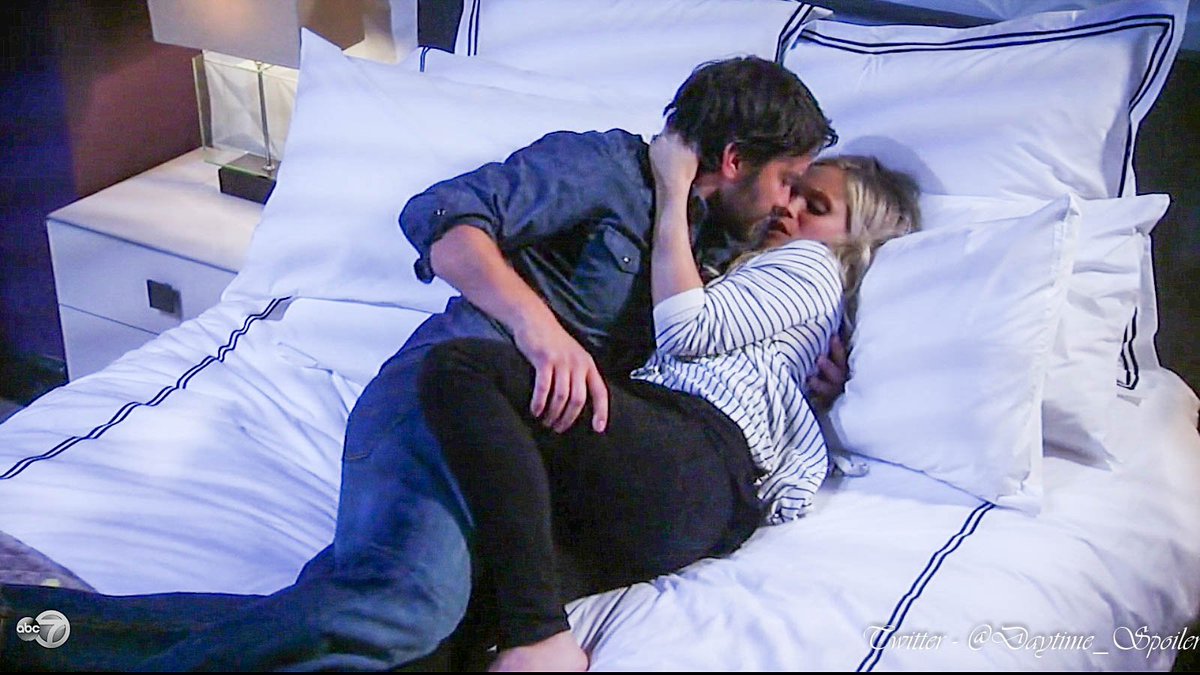 Lante had a honeymoon night in the Metro. The best thing about this whole scene? Tracy came over to see Laura and they talked about the past. Tracy did step in for Laura and it was awesome to hear.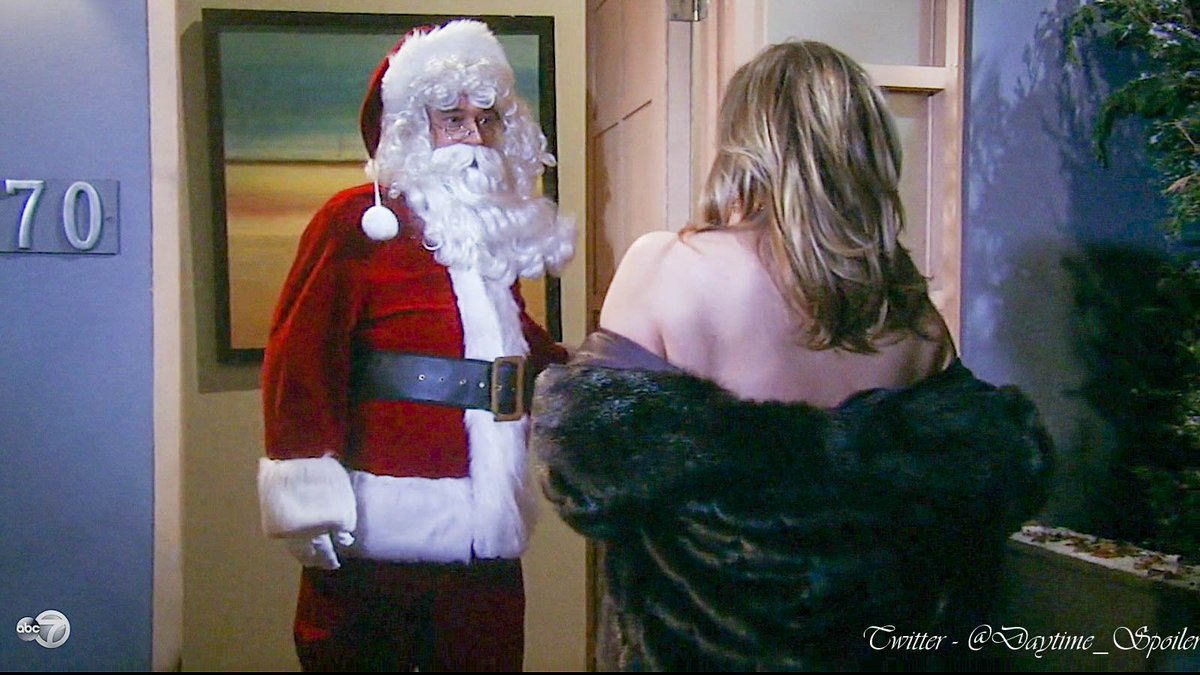 Laura went to Kevin's after Tracy talked her into going in her mink coat...naked. Yes, that happened! Kevin was dressed in a Santa Suit. So..that happened too. They slept together and got all cozy. Awww.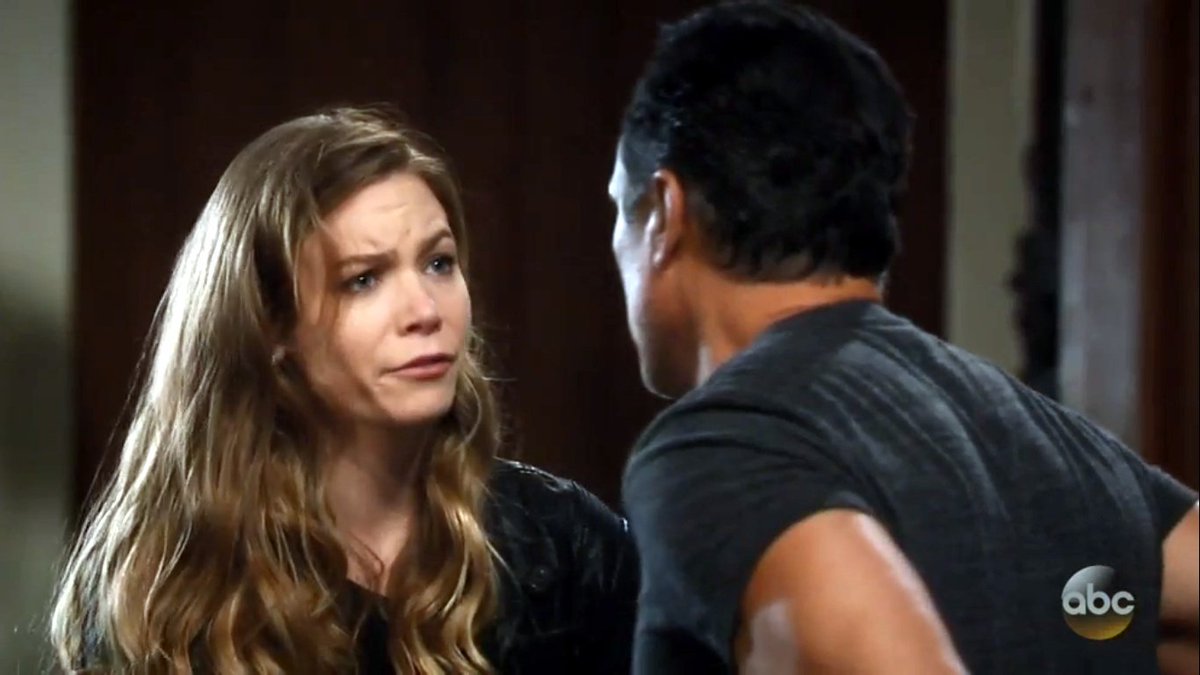 Then there's....... NELL.
You must say that in a Jerry Seinfeld "Newman" voice to get my dislike for this character down. And no, she's not a "I LOVE TO HATE_______" like Erica Kane, she's just a flat out bad-move character. Why? Well, let's see, instead of focusing on Sonny and Carly climbing out of grief hell, she has to drug and pretend to sleep with him. YES! Pretend- because we all know a 50 some year old man wouldn't know if he actually HAD sex even if he was passed out. He would know (the morning after I mean). We all KNOW--there are tell tale signs and I'm not making that up. Sorry if you are eating. Anyway, this chick puts a roofie in his drink and lays next to him and.. then begs him not to tell Carly. Then, in the next scene she's begging him TO TELL Carly. Yes, I heard it myself. It's like the dialog writers never looked at the previous day's words. Now here's the stupid Gala coming up and her phone is probably going to broadcast the "Sex Recording" for all to hear.
*sigh*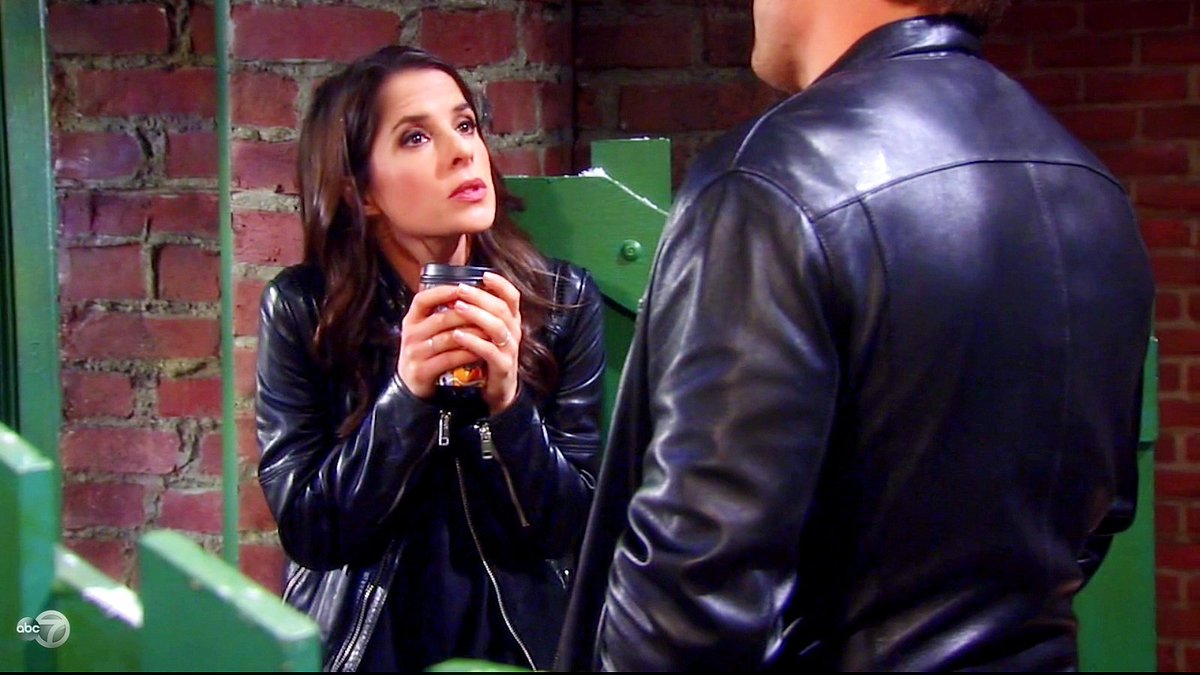 JaSam. Poor JaSammers. Geesh. Sorry but this is dull as anything. They are low talking about finding the bomber while Curtis weaves in and out of people's stories like a shadow. Weird. Just weird.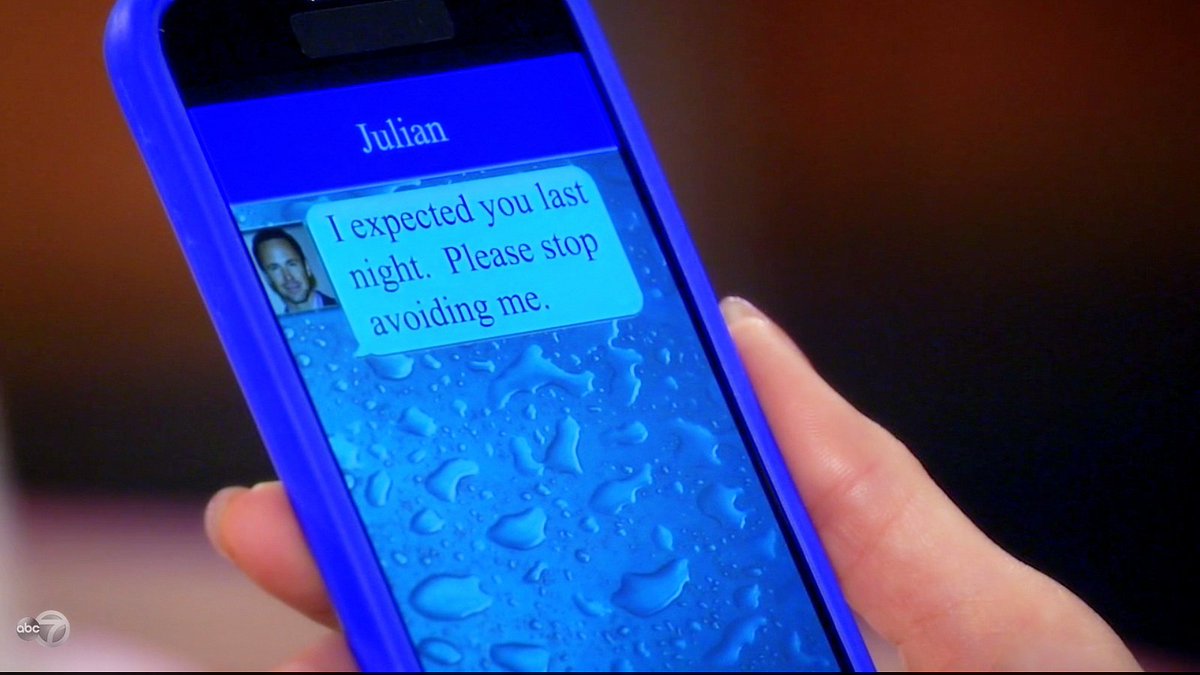 Alexis. Ol' binging Alexis. Now Julian remembers the accident and is going to make her come visit him and probably take care of him or 'else'. Whatever. So over this. They destroyed them when he put that knife to her neck and chased her around like a crazy person. Even IF someone was 'making him do it' it's still abusive/attempted murder-- and he could have taken the high road...but you know, GH.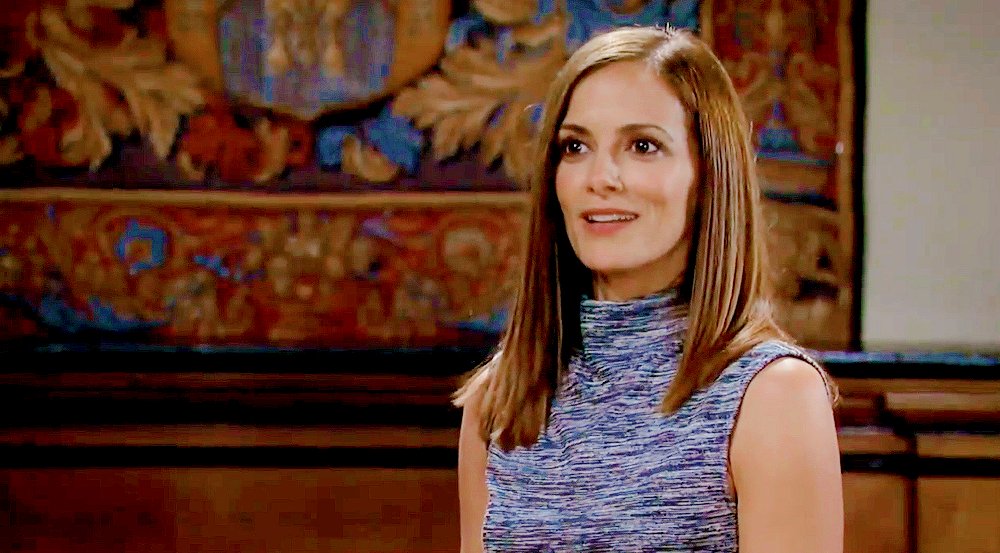 So, Hayden tested "positive" for the Hammy-Ham disease. Which, so far means not much. She cried to Elizabeth. Finn said "HE'D FIND THE CURE"!! and.....? We know they aren't going to die. Ergo, yeah. Great story. (sad trumpet)
So, that's the week that was!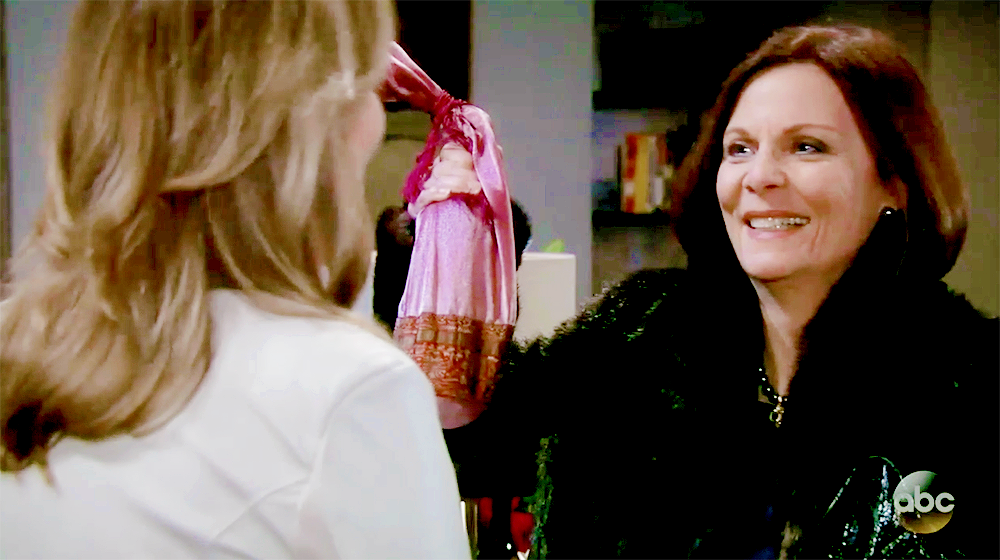 SCENE OF THE WEEK:

Tray and Laura. These two should so be the focus of the show-- maybe business rivals or.. partners or something. Loved them. And what Tracy said was true, Laura and she never have had a drink together!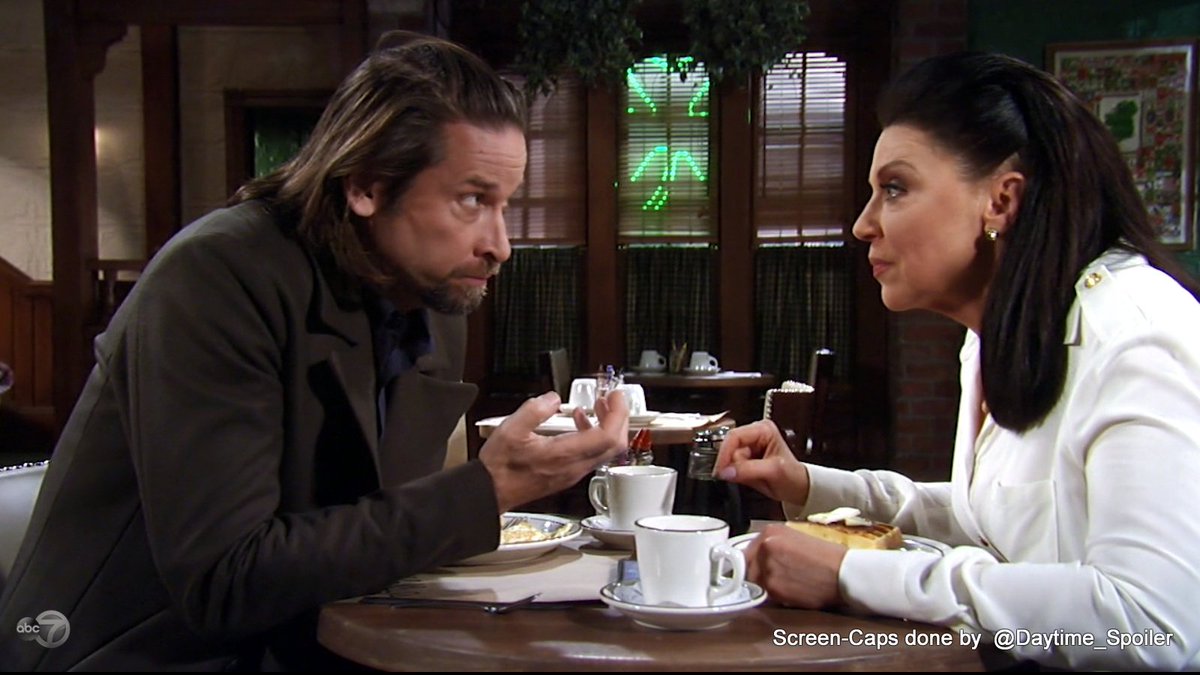 FOOD OF THE WEEK

: I don't care what Todd and Lesil are talking about, just let them eat.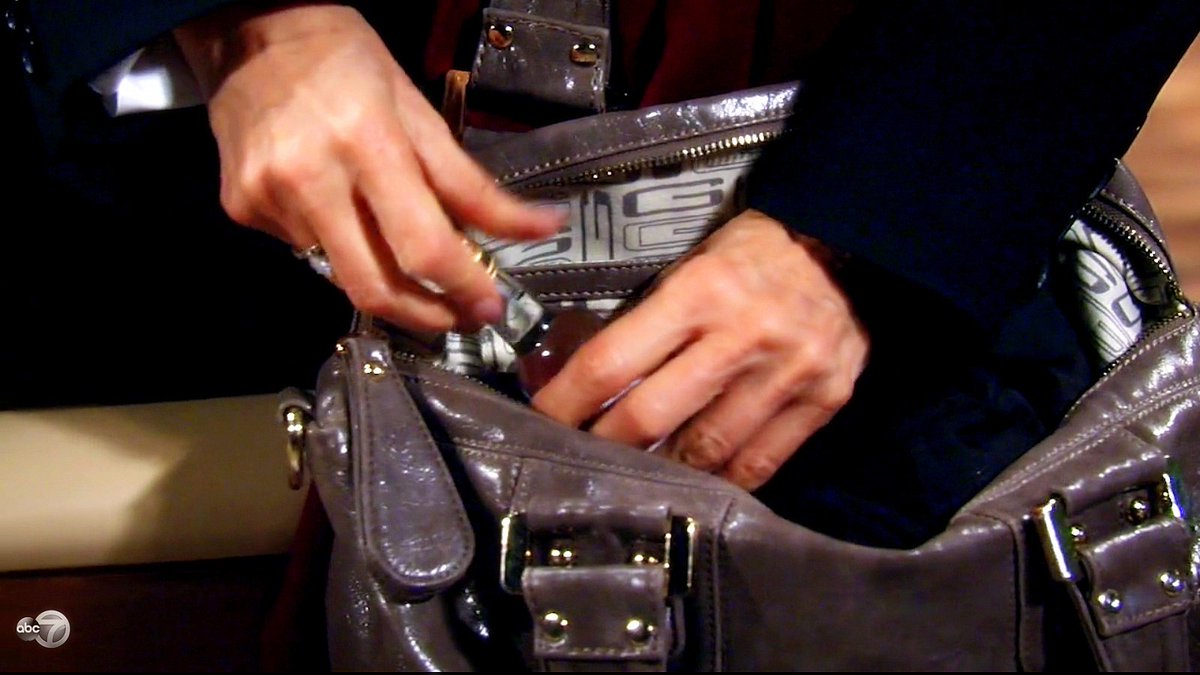 PROP OF THE WEEK:

Come on, you all have one of these in your purse. Admit it.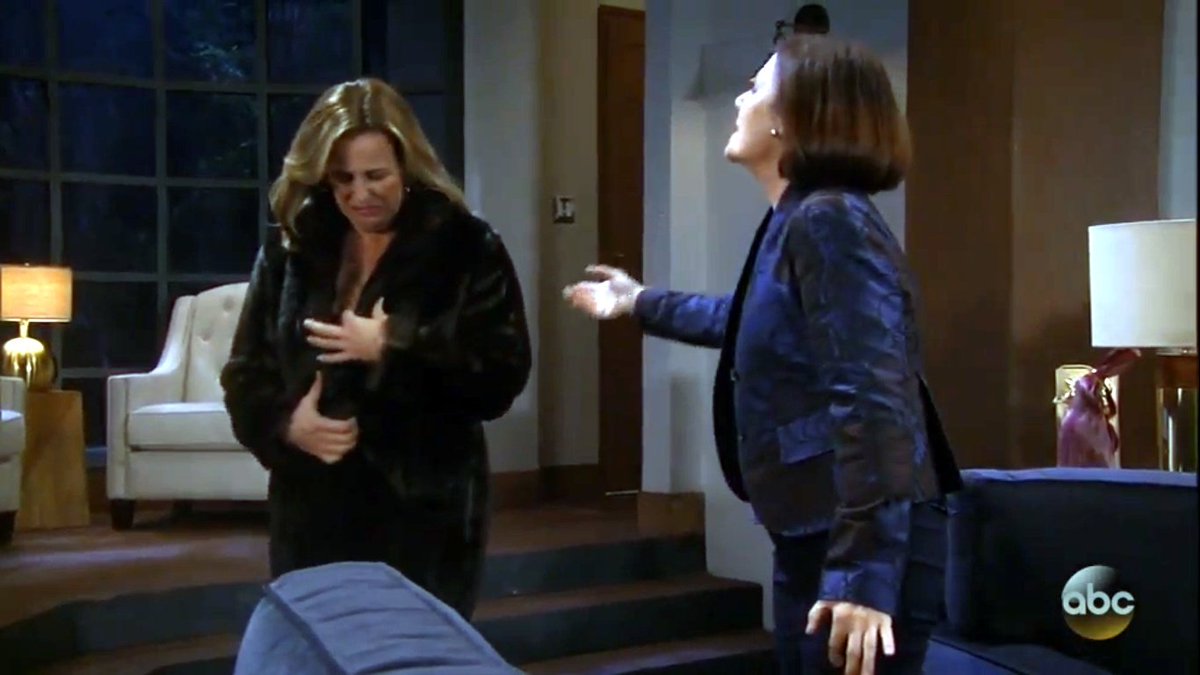 FACE OF THE WEEK:

Whatever this is, it's funny.
Off you go! Have a great rest of your Sunday. Hard to believe it's December already. My dining room table is covered with pre-Christmas shennanigans.