New Music opening I see. Boring Music!! I like the old one??!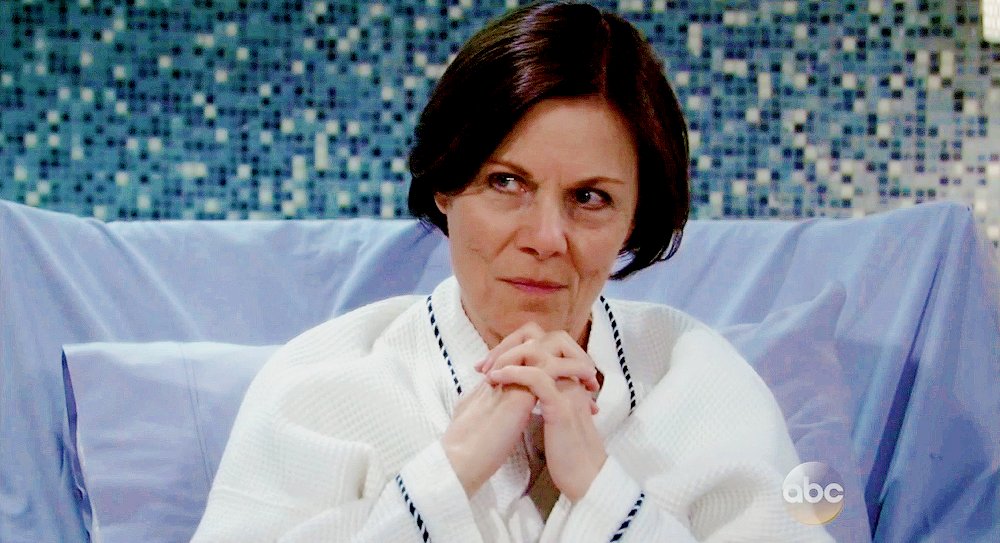 Tracy has several "Lesions" on her brain, they are not sure what they are. Dillon gets Paul. Monica's in the OR assisting. Of course she is, she can't be on 2 days in 3 weeks!
Tracy tells Dillon and Paul that she went off her antidepressants too soon and that's why she had these episodes.
Paul isn't giving Ava the zip drive. Sonny comes along and bitches at her later. I hate him lately. He's just such a redundant nothing character right now.
Sam and Jason Lowtalking. About themselves. I fell asleep.
Sonny prays to his Mobular God.
Sonny isn't GONNA APOLOGIZE TO NO ONE FOR NOTHIN!! He says to Dante. *sigh*. Dante Leaves.
He and Ava talk about Kiki. He says she's strong, happy she tried to help Morgan. Then, Avery comes in with the baby sitter. Sonny wants to take car of her. Ava says until Kiki gets better!!
Nate says his SECOND dog's name was Colette. Not Mittens. That's what Nina said- "Mittens".
So he's lying.
Dr O supposedly knows who Claudette is.
It's kinda hysterical they are doing this now. After his whole "NEVER LIE" things to Maxie. I guess he's so boring they have to invent a past girl for him.

OMG So while we are waiting to find out who the hell Rachel is..we can start this Claudette crap.