WHO REMEMBERS OYRISH? welp..Alberta does! HELLO on St. Paddy's Day-- I've had a few Guinness. SO. sorry.
Sonny finally acts like a parent to Krissy and says he's going to tell her Mom about "what she's hiding". She thinks it's the gay thing, but he just says she got kicked outta school. Great scenes. Krissy breaks down, tells them what she really did. You have to watch.. it's good. They still think the professor is a guy. :giggle:
Best part? Molly telling Sonny to STFU Yaaaaassssss!!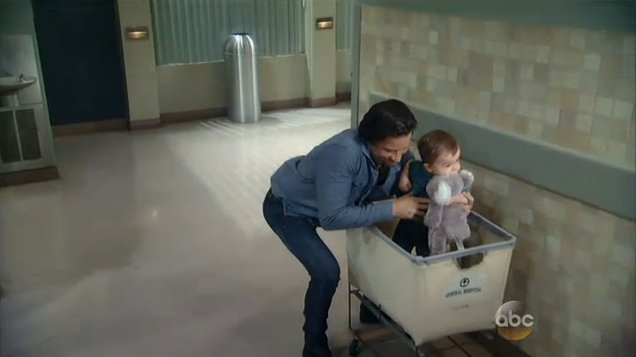 Dr. O telling Franco he'd be good with kids. She gives him Leo to watch-- and he's adorable with him of course. THEN he takes a phone call and leaves him in a laundry cart and walks away.
GUESS what happens? GUESS.
yes, he's gone.
OH a nurse took him to the nursery so Olivia found him.
Black Tshirts talking in the Garage Apartments. Sam wants a divorce. Thinks it would be best if they 'moved forward and got to know each other" Jason says ok.
Crimson.. Julian deflects the whole printer thing. Nina decides to run a contest for "real women" To build a Crimson (TOLD YA!!) and they are giving $1000 to first 5 to put it together first.
Ok then!
Black roses for Kiki. I think Sonny sent them to intimidate Ava