If you don't know this show...you should.
I watched the show out of order--I didn't see Monday and Tuesday until Saturday. It certainly is a different experience watching on DVR than live!!
AND lets just SAY--- I'm glad the Shriner's HOSPITAL FOR CHILDREN arc is over. I get it's a big charity push but LAWDY.
I'm having quiche for the protein factor!
Yeah that Felicia was on. Although I wish she was on more, I have to take what I can get. If she and Mac could manage to do double duty...yeah!
On to the stories:
First up: Griffin and Anna. Ok, what is this? And can we please move it along. Thanks. Tired of "Who is Who" Stories. Spoilers say he asks Brad to help him so--maybe a spark there? I think he's Duke's kid. I hope to HELL he's not a miscarried baby that lived. That would piss me off to no end. I even stopped watching AMC for awhile with the stupid aborted baby come to life crap.
Honest opinion? I could GAD who "Claudette" is. Especially when Nate could have just said, oh old girlfriend. Geesh, those drugs are strong! Plus the fact that he's running his mouth all the time about honesty and is now all lying.
Don't care. I realize this couple is boring but.. don't care. NOPE.
Ava/Paul... the whole Gun Running Story: So Paul got Ava immunity and made Jordan mad. Blah, blah..blah. Looks like Ava avoids jail time right now. So, is Paul good or bad? Does it matter? Anyway, Ava lost her damn mind and gave Avery to Sonny to watch while she's with Kiki in the hospital. Sonny of course tells Carly later that he's GONNA KEEP HER. You know, like a sack of potatoes.
Sam/Jason/Liz: Oh. Well. Sam goes to Shriner's HOSPITAL FOR CHILDREN to visit Jake and Jason and Liz is not happy. That IS until Franco shows up with a shiny bike for Jake. Jake had Skyped him about a bike and he flew there in ..oh, about 4 min to give him one. That was probably one of the more stupid edits I've ever seen. Why not put the SKYPE on the day before and make it at least a tiny bit real? I guess because we are soap viewers and you know, don't have a brain. Jason and Sam lay on the couch talking as low as possible, pressing their black T-shirted chests together. Snoozah. (don't even come at me JaSammers, I think Liason was just as snoozing. It's the Miller-Effect)
Todd/Franco Kiki: I am making this a separate post because RoHo was just superb again this week. His talk with Kiki was so genuine and fun --I loved it. "You could punch me in the face, and that would knock me out and we'd both be..." Wow. Again, thank you for not phoning it in.
Tracy: The one story I care about most on GH right now. Forget who the hell "Rachel" is and ELQ stupidity, this is where it's at. Jane Elliot if one of the finest daytime actors ever. She did the seizure and symptoms so well--amazing. Loved her talk with Dr. McCranky. I hope they have something after this is over!! Monica is included in this next week too! They don't know what it is just yet, she needs a MRI. Which is pretty true to life. "Lesions" on the brain could be a number of things.
Nina Baby: The only thing that I like about this is that she and Maxie may become friends. Thought it was hilarious when she said her only "Girl" friend was her horse. And her mother killed it. Awww. Why they have to do this 'desperation' baby story is beyond me. Maxie did suggest she get another opinion about having one herself. Maybe the new ME character (who is reportedly is a doctor) will be a gyno.
Oh, by the way, how did the "Real Women" issue of Crimson go?
Morgan. Oh Morgan. I don't want to like this story because there is a lot wrong with the execution prior to this Friday but I'm just going to talk about now. I really really enjoyed Friday's show. It was just magnificent.
So, first we have Carly realizing that she and Sonny aren't equipped to take care of Morgan. Sonny of course, pushes back. NO SON OF HIS is going to the "looney bin". As a Mom Carly was so thinking about Morgan and not anything else. Sonny, well, being Sonny wasn't! They talk to Diane about options for keeping Morgan out of jail and she goes to talk to Paul about them. The one thing that really bothered me was the whole "The DA is using Morgan as a scapegoat"--um Morgan DID do this. Morgan did choose to go off his meds and he was directly responsible for Kiki being there so, don't sugar coat it by making it Paul's fault!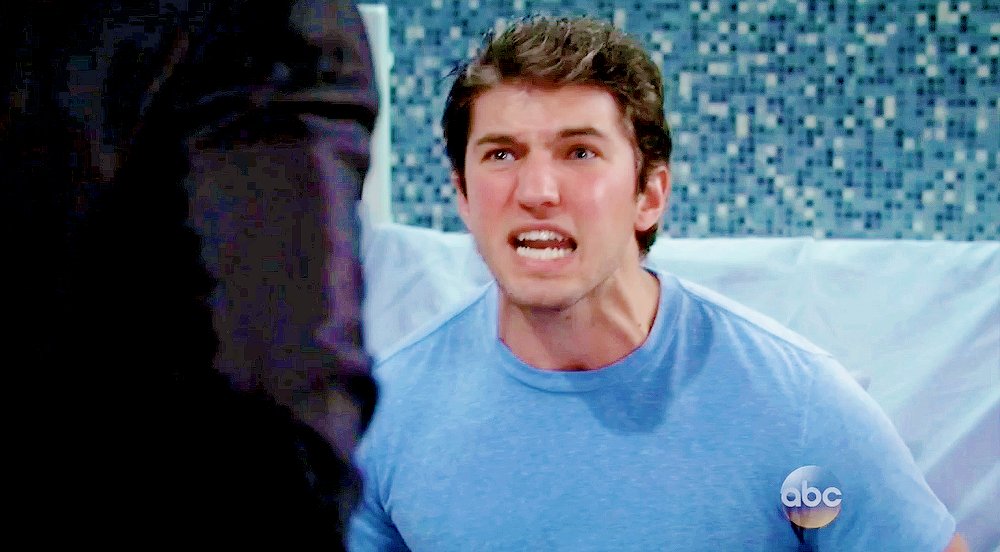 I will give it up for all the actors in this scene. I did think it came off real. I loved how Diane was teary eyed and told Morgan 'she saw him grow up'. Everyone's anguish as Morgan begged not to be committed but they knew he had to be. You rarely see this raw stuff on soaps (especially about this subject) and done this well.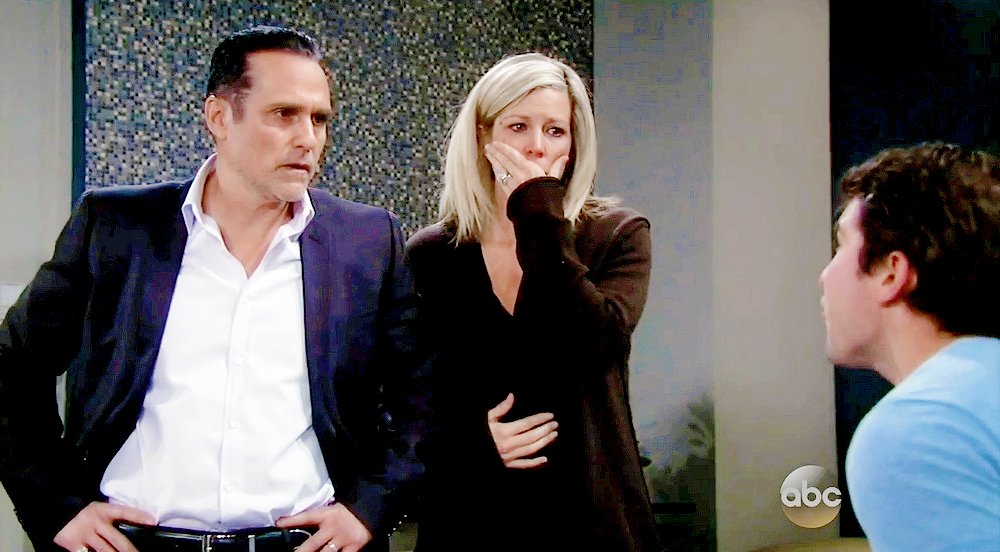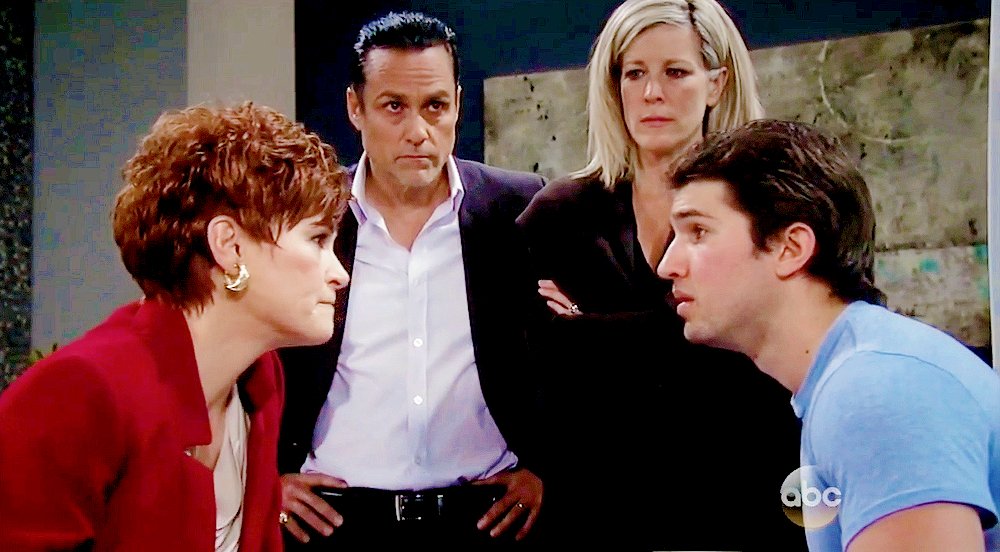 SCENE OF THE WEEK:

The mentioned Morgan scenes about him being committed. Bravo.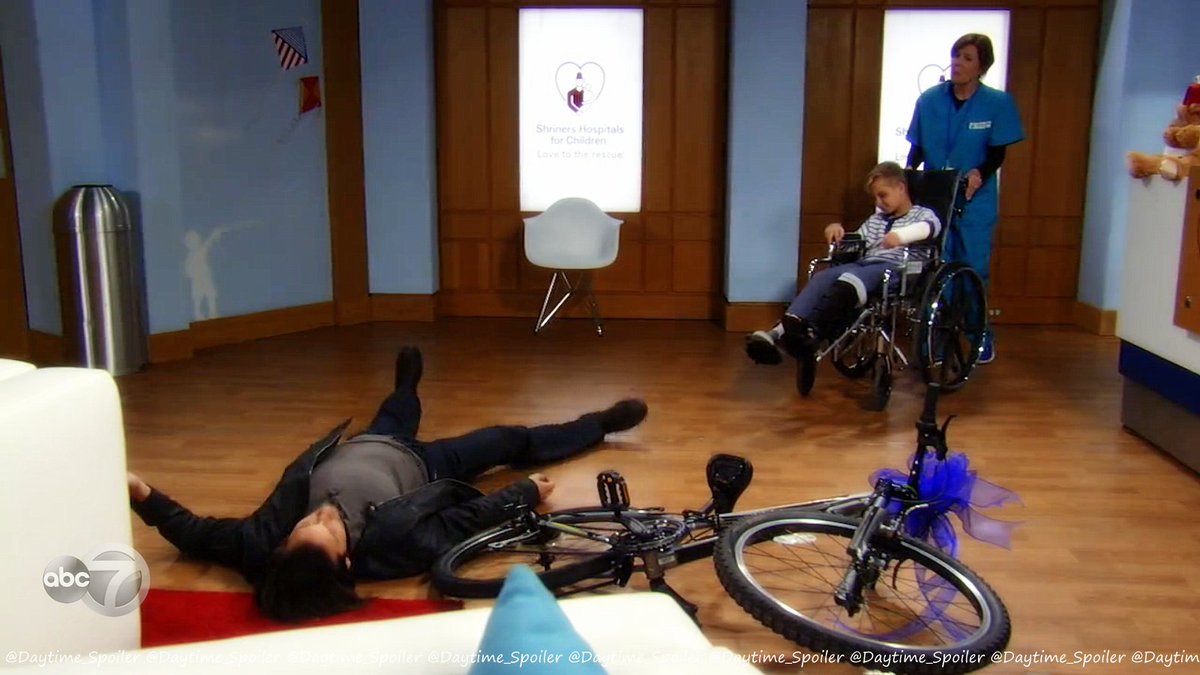 PROP OF THE WEEK:

Time Travel Bicycle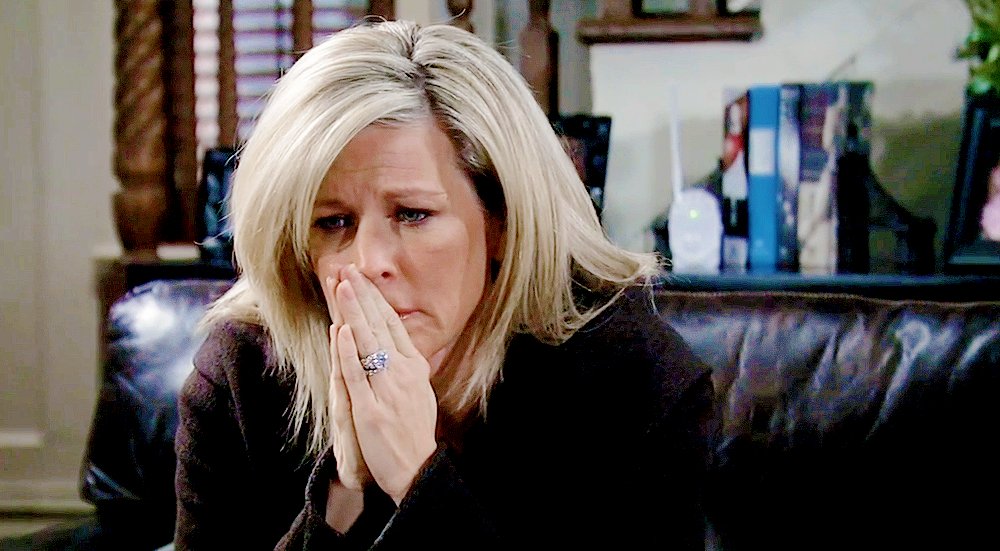 FACE OF THE WEEK:

Carly had all the Mom faces this week!

SO that's this week.
More thoughts:
1. OH HELL NO!!. DO NOT Even think of pitting Jordan and Anna against each other for Maddox. Anna JUST lost Duke (in 'real life-time") so how about letting her be just HER for awhile? Two females as strong as these do not need to go at it over a damn man. So stop it. Thank you. I mean it!!
2. Why did you feel the need to wake Kiki up? Why!?
3. This Claudette thing...do we really need another character?
Ok! Have a great Sunday Night! It's the finale of Downton!! I will miss it. I haven't binged House of Cards yet but I will and soon. Then Orphan Black is coming in April! WOOT!!