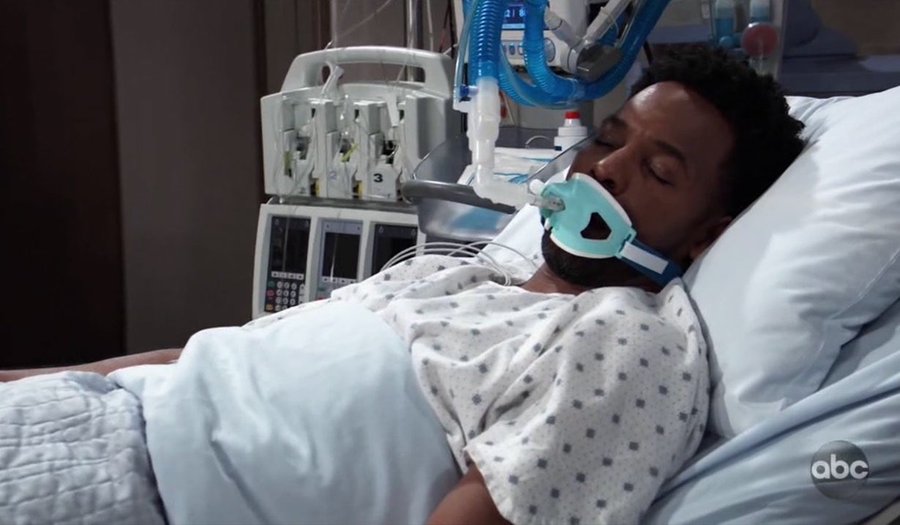 Called back to act--only to be in a coma...
I got here late and saw Michael telling Sam about Sasha's "Major secret" lol Sam's got some gym wear on at the Metro. Geeze.
Nina's just blabbing on to Sasha about being a mama..yada yada. I LOVE being a mama..YOUR mama. Oh to be a MAMA... blah blah blah.
Dr. O, Finn and Valentin talking about Sasha's health.
"Less chatting, more work"-- I love Dr. O. LOL.. they have to do some testing that could uncover Sasha' s paternity.
Dr. O corners Brad and says he's going to make Sasha's DNA match Nina's or she'll spill about Wiley.
Um..Peter is skulking around trying to kill Andre.
Andre's beepers go off tho..and Peter skulks away. They give Andre something and he starts to wake up. He says "Someone tried to kill me" . He was in Africa and Drew found him and told him about Franco. Put him on a plane and Andre flew back. Drew went on to Afghanistan. Andre was met when he got off the plane by a driver but that guy tried to kill him. He fought him off and dove himself to GH .
Drew hasn't checked in so right now he's supposedly "missing"
Franco goes into Julian's bar with Kim-- Julian introduces himself. Franco says: "oh whatever
happened earlier, completely my fault" AHAHHAA OUTTING KIM!! OH, he covers for her and doesn't talk about the kiss.
Later, Franco asks Alexis about being a lawyer because he might need one. Alexis is like, I can't it's a conflict of interest. Franco says NO, I'm Drew. She's like: Um.. nope.
So, Diane is at CarSon's about adopting Devvvvvvvv--well, Sonny is. LOL. Carly's like: WHAT?? Diane tells him he's 16 so they can't petition under his "Turkish" name, they'd have to lie and adopt him under his "Corbin" name. Carly's not sure.
END:
Sam calls the jet company. Drew's jet disappeared from radar, just vanished.
OH PEOPLE! THAT'S IT FOR ME until I"m home again-- not sure when I'll be doing the blog. BUT--DelcoDave is filling in so check DAILY for goodies and to dish about the show!!