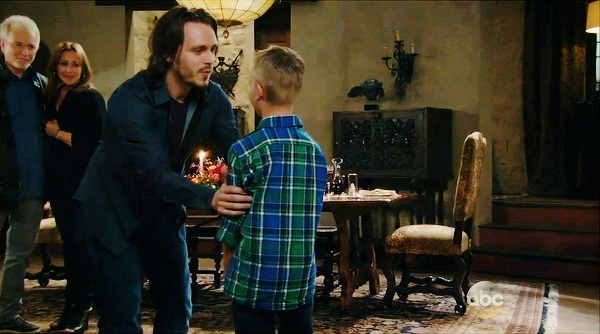 They are really acting like Jake is Lucky's bio kid, aren't they? If you hadn't watched in like 3 years, you'd think it was his. Which I know he 'raised him' and he's his. Ok, So Luke said Helena just took Jake. Who'd they bury?
LOVED Tony and JJ....LOVED.
I cried guys. Seriously. CRIED!!! They were talking about themselves and how Tony was his mentor..yada yada. GEESH.
Also great touch to have Jake show Laura around the island.
Did you see they were in PC in 3 seconds? Liz still had the same shirt on!
The explanation that Hells just "took Jake" is so flimsy. But whatever. I'm just going to say: Whatever with that. Helena's a damn witch for reals and did a spell. There.
MONICA! I just about fell the hell over!! Then at the end Jake goes there? All in one day? They saved everything for ONE Day!
I HATE Valerie and she was stupid to Dante. The only thing that ruined today's show a bit? STUPID flashback to DonVal Sex ..again. We've had 3 flashbacks in 3 days of that mess!!
Loved Liz and Jake too. I feel badly for her. I know she lied and is lying but, sniff. Jake's alive and --what a mess.
I WONDER if Nikolas knew about JAKE!! WOW...and what if Rosie was watching Jake all these years until she came to town with Nina.
HMMMMMM..
I need a scotch after the show today.
In a GOOD way for once lol