PCPD:
Scotty calls the memory transfer "Horse Manure" AHAHAHA. Drew's like: WELP, it is what it is. "He's still gonna need a lawyer" says Drew. Scotty agrees.
Jordan and Shiloh..he wants a phone call. He calls someone about information about Alexis. I guess the "Secret" Krissy told.
Jorday says Shiloh will not get off charges THIS time. LOL welp.. its' GH so?? Jordan says he's going to Pentonville today.

Julian, Alexis and Sam. He's telling them he's moving to Manhattan. Wants to say a proper goodbye. Sam wonders how Alexis is feeling about it all. Alexis says she's happy for Jules. Sam says well, he could turn his life around for Kim but not you?
Day 90000000 with no customers at Charlie's lol GEEZE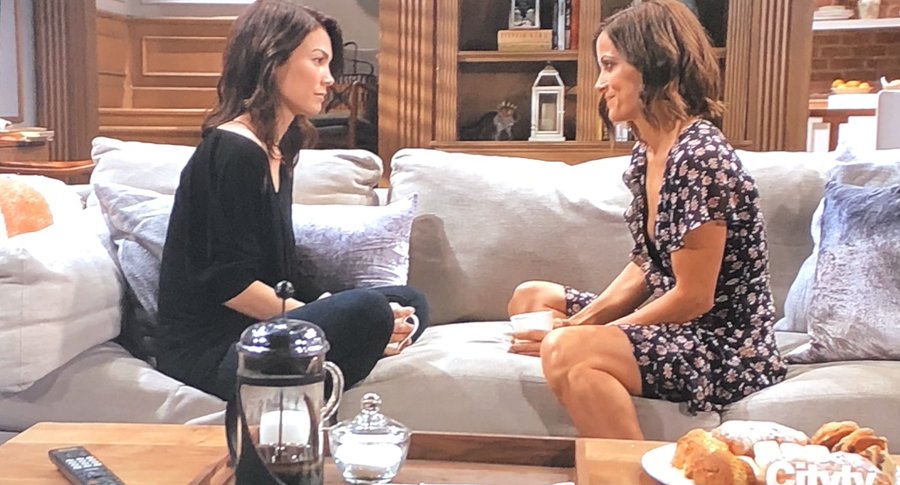 Liz and Hayden. Hayden brings pastries into the living room . I LOVE them living together!! Hayden says she wants to be there for her sister. She needed someone when she was pregnant and had no one so wants to make sure she helps. No mention of the 'Dead baby".
Drew and Curtis come in to tell Liz that things haven't changed. Curtis is proud of Hayden.
CarSon's house: Sonny, Lulu Robert and Olivia walks in. They tell her that Dante's been moved and may never get better. Olivia wants to being him home around family that loves him. Lulu doesn't think so.. he needs more help. Sonny says he should have done more for Dante when he got back from Turkey. Robert says he didn't send Dante down the path and he won't be the one to save him.
Lulu says she won't contest the divorce. It will be final in 20 days. Olivia and Sonny want to know why. Lulu says that it's what Dante wants.
DrewCo and St. Jaysus. Franco says he's sorry--- he's "the victim of a memory experiment gone wrong" and asks how it happened. Franco wants Jason to tell him the ENTIRE backstory of the memory story. Franco remembers being in Afghanistan. He says he doesn't believe Jason and doesn't want his help--- Jason leaves. DrewCo threw the pticher.
Scotty goes down to see him. He says he's his father. Franco says "That must be tough for you if what they are telling me is true".. then asks, why would you name him FRANCO AHHAHAA!! Scotty says he'll be his lawyer. Leaves
Shiloh gets walked into the jail. Franco stares at him. Shiloh realizes he's Drew.
Flashback to SHiloh beating up Drew (looking like Jason) and HELENA STANDING THERE! THAT'S WHO got him to Hells! Shiloh.
Helena pays Shiloh for delivering Drew.
Back in real present day, Shiloh tells DrewCo that he know that Tex told him where the money is. SHiloh wonders if it's still there. DrewCo says "That's a question for the ages".
END:
OLIVA BOUGHT CHARLIE'S!! Maybe she'll make pasta. THEN customers will come!
Somone is looking at Alexis in the iPad
Drew and Curtis are going to look for Maddox
Helena had an accomplice!! Some man.. just showed the shoes. It is Jerry? Stavros? Valentin?? Hmm. Alcazar? OOO!!!