Lulu and Maxie . Lulu rips into Maxie for seeing Dante. (even tho she really wanted to). Lulu says Maxie could have set Dante back a long way and now she'll never see him!
Finn and Peter. Peter doesn't want Finn to all Anna. He doesn't want her motherly pity. Finn leaves.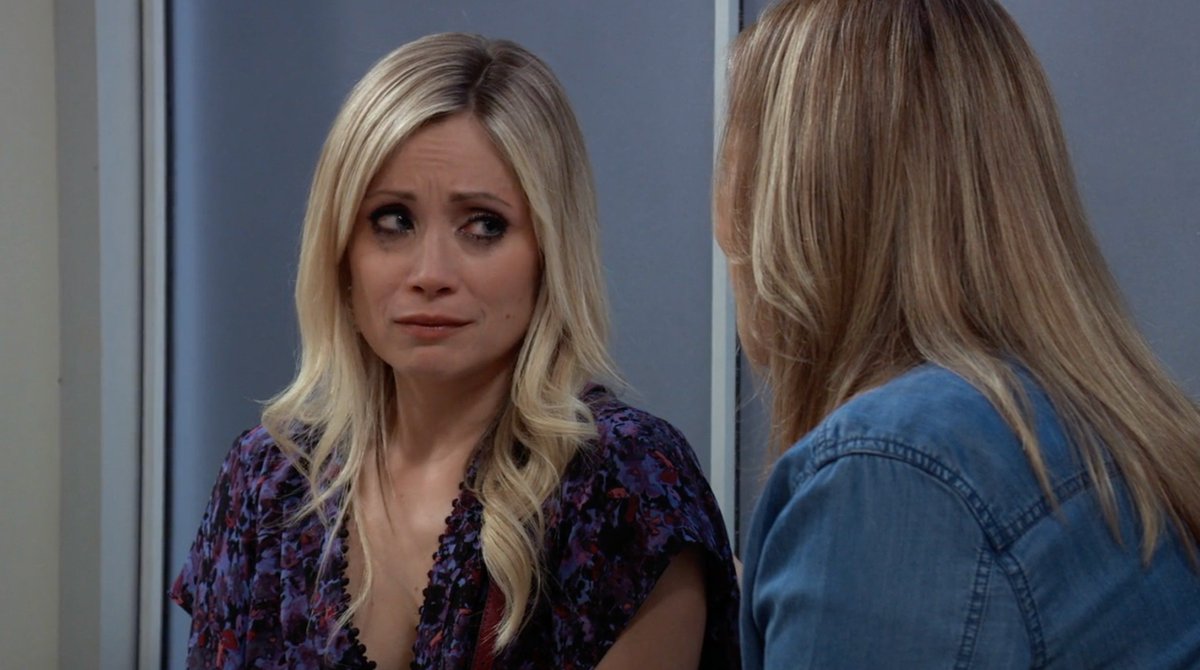 Lulu goes in to visit Peter. Why? I have no idea. I hope to punch him in the face. NOPE! she's glad he's all right and she knows it's not HIS fault, it's Maxie's. She leaves when Maxie comes in. Is crying in the hall and her Mother sees her and they hug. She tells her Maxie was just trying to make her feel better. Maxie actually called her. Maxie comes out and Lulu looks at her. They are going to make up.
Drew and Curtis. Drew doesn't want to talk about Oscar or who drugged him on the HS. Then, Hayden comes in. She's the new CFO of the print division. Drew is NOT happy. He wonders what she's up to. Remember she pretended to be his wife way back when... (Which I totally forgot about until Nina said it lol).
Jax and Nina--more of the same blah blah.. Curtis says he'd better get into the Drew/Hayden discussion soon. Jax goes to the office of Drew. Drew isn't happy. "Do you know she embezzled money from GH"??
"Yes I am " says Jax
Later we find out that Jax and Hayden are both in town to take down Valetin.
Robert goes into Charlie's and sees Julian is running it. He says he remembers when he got Jules into the witness protection program and he immediately went back to his life of crime. Julian says now he has someone to stay on the straight and narrow for. (Kim) who walks in. Says she's sorry. I think about drugging Drew. She saw Dr. Massey today (off camera) and talked to her about the drugging. Too bad we didn't see it.
Robert meets Finn and they talk about Peter. Ugh ..Finn can't tell Anna about Peter but Robert can. Finn tells Robert not to tell Anna. Robert realizes that Finn doesn't want Anna home because of Hayden.
On the roof of GH...Sibley asks Ava for money, then says let's contact Kiki! They are sitting on boxes with Pier One bedspreads on them. She's telling her she's going to be "channeling" not being a medium. (Like Whoopi in Ghost lol)... Anyway, Kikii comes through in Sibley 'No mother, it's me". 'Kiki" tells Ava about the necklace that she gave Sibley and that she didn't wear it after she drugged Sasha. Ava says "everyone knows about that"-- then "Kiki says that Ava almost slapped her in Kelly's but she caught her hand" So Ava believes it's her.
Kiki says she doesn't want to talk to her EVER AGAIN.
Ava pleads for her to stay she says no..and 'leaves'. Ava thinks it's so Sibley can charge more money. Sibley says "oh Kiki's back" and wants to tell Avery she misses her.
Ava says she wants to talk to someone else. I of course, think it's Morgan but it's NIKOLAS?? HUH??? Anyway, she can't 'find him on the other side"... so.. is he alive?